Win Dinner and a Film this Valentine's Day
09 February 2017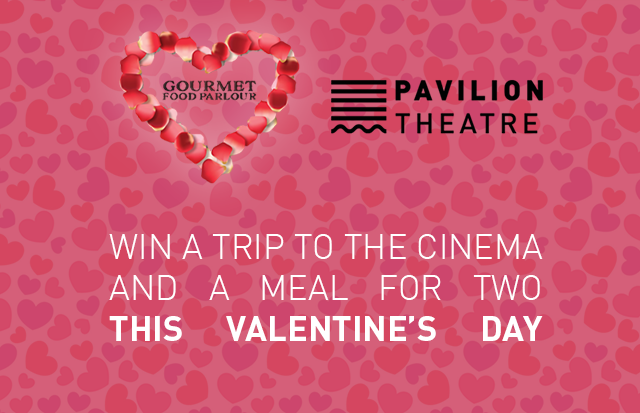 We've teamed up with Gourmet Food Parlour to bring you a Dún Laoghaire date night of epic proportions this Valentine's Day! You could win a pair of tickets to see one of our Special Screenings as well as a meal for two.
First, Pavilion is offering two incredible film screenings…
Brief Encounter (1945) is widely regarded as one of the most romantic films of all time. It tells the story of Laura (Celia Johnson) and Alec (Trevor Howard), both happily married until a chance meeting leads them down a path they never expected. Our Special Screening of this classic is at 5pm.
A more modern romance, Lost In Translation (2003) follows Bob (Bill Murray) and Charlotte (Scarlett Johansson) as they find themselves adrift in the neon jugle of Tokyo, yearning for human connection. This screening will be at the later time of 8pm.
Whichever film you choose you'll be treated to a complimentary meal for two at Gourmet Food Parlour. Located just two minutes' walk from the theatre, their Valentine's tapas menu includes a glass of Prosecco and a selection of mouth-watering dishes.
To be in with a chance of winning this romantic night out, simply answer to the following question:
Who plays the part of Laura in Brief Encounter?
Email your answer and contact details to competitions@paviliontheatre.ie with the subject line "Valentine's Competition".
Best of luck, and remember: booking online at paviliontheatre.ie is always free!
Winner will be chosen on Fri 10th Feb and will be contacted directly.
COMPETITION NOW CLOSED
__________________________________________________________________________
Brief Encounter | Tue Feb 14, 5pm | €7.50/6.50 (€12 for both)
Lost in Translation | Tue Feb 14, 8pm | €7.50/6.50 (€12 for both)
Gourmet Food Parlour | Unit 3 Harbour Sqaure, Crofton Road, Dún Laoghaire