Coronavirus (Covid-19) Updates
03 June 2021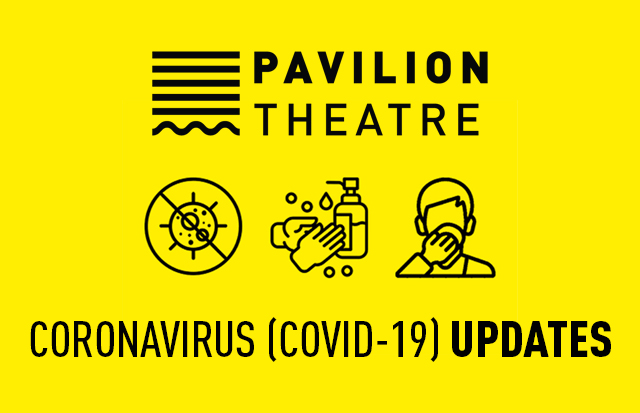 Here is an up-to-date list of information about the ongoing situation in relation to the Coronavirus (COVID-19).
Updated Thu 3 Jun 2021:
Due to the introduction of Level 5 restrictions, Pavilion Theatre is currently closed to the public.

Pavilion Theatre Box Office is open for calls at present - you can reach us on (01) 231 2929 or email boxoffice@paviliontheatre.ie. Opening hours are Monday to Friday, 12pm to 5pm. If you leave a message or email us, please be patient and we will get back to you.

While we cannot present live events at this time, we will continue to offer a selection of online events when possible. Keep an eye on our website and social media for updates on online events. Click here to read our FAQ about online events.
Many of our patrons have asked us if there's a way they can donate to help support the venue through this difficult time of closure, postponements and cancellations. This is now possible through our website, and we sincerely thank anyone who chooses to donate here.
We've put together a list of cultural activities for all ages you can enjoy from the comfort of your own home; read the blog here.

Ticketholders for all affected events will be contacted by our Box Office team. Please be assured that if we haven't been in touch yet, we will soon.
Please come back to this post, and keep an eye on our social media pages for further updates. For more information in relation to COVID-19 please see the HSE website.
We look forward to welcoming you back to Pavilion Theatre and appreciate your continued support.
Thank you from all of us at Pavilion Theatre.