Coronavirus (Covid-19) Updates
17 December 2021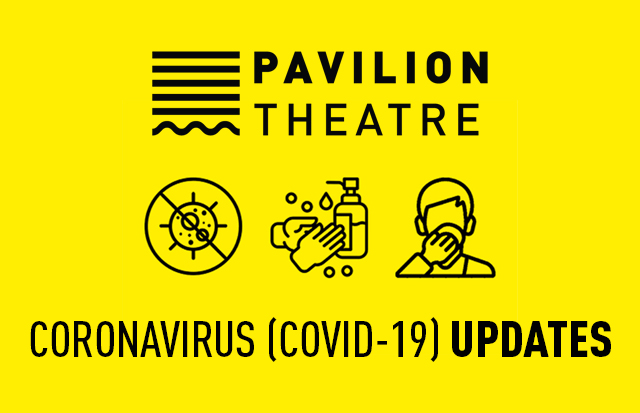 Here is an up-to-date list of information about the ongoing situation in relation to the Coronavirus (COVID-19).
Updated Fri 21 Jan 2022:
We welcome the recent news of a return to indoor events at full capacity free from time constraints and we are working hard to adjust our programme accordingly.

With respect to all other events, we encourage our customers to check the event listings on our website where tickets will be released over the coming days. Thank you for your support, patience and understanding.

Pavilion Theatre is currently open to the public.

Pavilion Theatre Box Office is also open for calls on (01) 231 2929 or email boxoffice@paviliontheatre.ie. Opening hours are Monday to Saturday, 2pm to 5pm. If you leave a message or email us, please be patient and we will get back to you.

Seating for all events (included cinema) will be allocated. There will be no social distancing measures in place between seats.

The use of face coverings will be mandatory in all areas of Pavilion Theatre and during the show.

If you or anyone as part of your booking develop Covid 19 symptoms simply get in touch with us before 11am on the day of the show (email boxoffice@paviliontheatre.ie or call 012312929) and we will exchange your ticket for another performance, or a credit voucher for the purchase price of your tickets.

We will continue to offer a selection of online events when possible. Keep an eye on our website and social media for updates on online events. Click here to read our FAQ about online events.
Many of our patrons have asked us if there's a way they can donate to help support the venue through this difficult time of closure, postponements and cancellations. This is now possible through our website, and we sincerely thank anyone who chooses to donate here.
We've put together a list of cultural activities for all ages you can enjoy from the comfort of your own home; read the blog here.

Ticketholders for all affected events will be contacted by our Box Office team. Please be assured that if we haven't been in touch yet, we will soon.
Please come back to this post, and keep an eye on our social media pages for further updates. For more information in relation to COVID-19 please see the HSE website.
We look forward to welcoming you back to Pavilion Theatre and appreciate your continued support.
Thank you from all of us at Pavilion Theatre.