Join the Team! Bar & Front of House Assistant (Part Time)
31 July 2023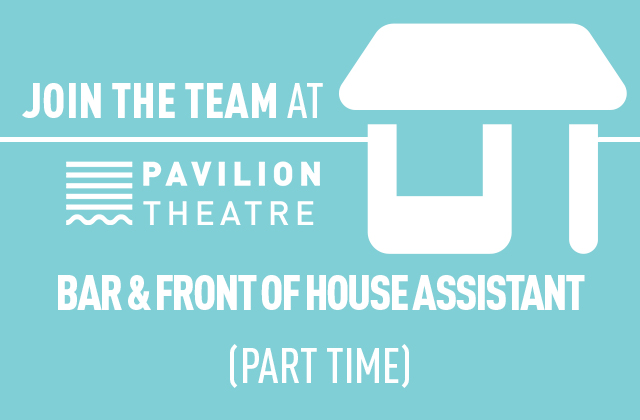 Pavilion Theatre is now seeking applicants to join our team for the following position:
Job Title: Bar and Front of House Assistant (Part-time)
Contract: This role has an average of 15 hours per week, depending on our programme of events. We would anticipate an increase in opportunities and welcome applications from candidates who can grow with the role.
Reports to: Front of House Duty Manager, Bar Supervisor, Operations Manager, Venue Director
Works with: Bar team, Front of House team, Customers
Key Responsibilities include but not limited to:
Sales and Customer Service
To serve beverages, quickly and efficiently
To maintain a good knowledge of our products and effectively advise customers of their choices
To process sales through the till, taking money and issuing change, maintaining a high level of accuracy and security with all cash handling procedures
To deliver a confident, intuitive, and efficient customer service at all times
To take orders for our interval order facility
Front of House Assistance
To support the Front of House team with the smooth running of the show, as required by the Duty Manager
To assist the Front of House Duty Manager in the event of an evacuation or other health and safety issues
To ensure the Bar environment is welcoming, presentable, and safe at all times
To set up and clean the tables and counter, use the dishwasher, and put away clean crockery, cutlery and equipment
To assist at private functions and at other points of sale when necessary
To assist in keeping the bar, front-of-house, and toilets clean and tidy at all times
Bar Administration
To fill out Purchase Order sheets with Bar Stock
To follow the policy and order note and coin change for both the Bar and Box Office when needed
Occasionally assist with monthly stocktakes
General
To be available to work daytime, evenings and weekends on a weekly rota by agreement with the Operations Manager
To maintain high levels of personal hygiene and a professional appearance
To ensure daily checks and opening and closing procedures are carried out as instructed and that all hygiene, health and safety procedures are followed
To carry out any other tasks as instructed by the Duty Manager
The above list details in a broad way the duties to be performed by the Bar Assistant. It is not an exhaustive or definite list and other duties may be assigned by the Operations Manager or Venue Director

The successful candidate should have the following personal specifications:
Minimum of 6 months working in the bar/hospitality industry
Very high standard of customer service and professionalism
Excellent communication and organisational skills
Ability to work under pressure
Accountability and reliability with cash handling
Application Process
To apply for this position, please email a CV detailing your experiences and a cover letter briefly telling us:
Why you think you would be the most suitable candidate for this role
Outlining your most relevant experience to support your suitability
Ideal start date: September 2023
Applications must be submitted by email to:
Niall Gomes O'Connell, Operations Manager, niall@paviliontheatre.ie
Closing date for applications: Friday 18th August, 5pm
Interviews will take place shortly after the closing date.
Pavilion Theatre is an equal opportunity employer.