Join the Team! Box Office & Marketing Assistant (Part Time)
03 August 2023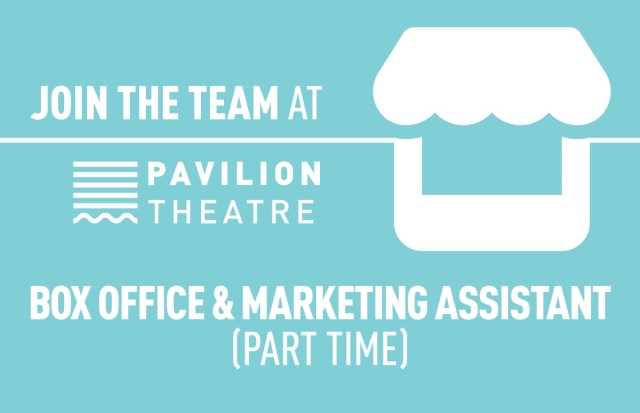 Pavilion Theatre is now seeking applicants to join our team for the following position:
Job Title: Box Office & Marketing Assistant (Part Time)
Download a PDF copy of this job spec here
Contract: This role has an average of 30+ hours per week, depending on our programme of events. We would anticipate an increase in opportunities and welcome applications from candidates who can grow with the role.
Reports to: Box Office Supervisor, Operations Manager, Marketing & Communications Manager, Venue Director
Works with: Box Office Supervisor, Marketing Department, Customers, Front of House team
Key responsibilities include but are not limited to:
Sales and Customer Service
To process ticket sales using Ticketsolve, Pavilion's computerised ticketing system; this includes telephone, online and over-the-counter interactions
To actively maintain and encourage a high standard of professional customer service and to be the first point of contact for customers of Pavilion Theatre
To efficiently input data on Ticketsolve, ensuring constant attention to detail on data entry
To answer questions in response to enquiries about shows and the theatre
Box Office Administration
To assist with opening and closing of Box Office, including preparation of cash takings, reconciling reports and updating seating charts and event information
To assist with any administration/tasks related to Box Office, Front of House or Marketing that may be reasonably required.
Marketing
To provide support to the Marketing & Communications Manager
To engage in digital, email and social media marketing, including website content management
To create and edit written, graphic and video content as required
To aid in physical marketing and print distribution both on and offsite
General
To be fully informed and proactive in the marketing of Pavilion's events and services, looking to create sales opportunities whenever possible.
To replenish the marketing material in Pavilion Theatre and ensure that the Box Office area is always presentable.
Occasionally assist backstage as a chaperone if extra supervision is required to fulfil our Child Protection standards
The above list details in a broad way the duties to be performed by the Box Office Assistant. It is not an exhaustive or definite list and other duties may be assigned by the Operations Manager or Venue Director
The successful candidate should have the following personal specifications:
Good knowledge of ticketing systems; preferably, but not exclusively, Ticketsolve
Minimum of 2 years' experience in a customer service related industry
Excellent positive, efficient and courteous verbal and written communications
Ability to work under pressure and to deadlines
Working knowledge of Adobe Photoshop and Premiere Pro preferred
Good copywriting skills
Enthusiastic about social media
Excellent cash handling skills
Available to work evenings and weekend shifts
We welcome applications from candidates who can grow with the role
Application Process
To apply for this position, please email a CV detailing your experiences and a cover letter briefly telling us:
Why you think you would be the most suitable candidate for this role
Outlining your most relevant experience to support your suitability
Names and positions of two referees relevant to your position
Ideal start date: September 2023
Applications must be submitted by email to: Niall Gomes O'Connell, Operations Manager, niall@paviliontheatre.ie
Closing date for applications: Monday 21 August, 5pm
Interviews will take place shortly after the closing date.
Pavilion Theatre is an equal opportunity employer.