5 reasons to see Brothers of the Brush by Jimmy Murphy
26 June 2019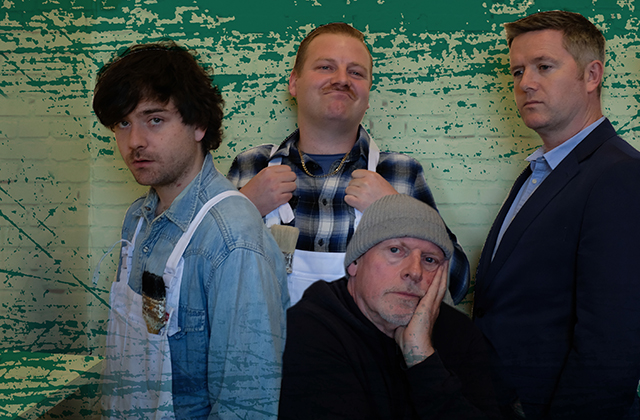 ___________________________________

Jimmy Murphy is a Dublin-born playwright with a string of hits to his name, not least The Kings of the Kilburn High Road which was inspired by his time in 1980s London working on building sites. The play was later adapted into an IFTA-winning feature film.
Brothers of the Brush
was written as direct response to what Murphy perceived as a lack of theatre that reflected the Ireland he saw around him. The bold, authentic script that would become
Brothers of the Brush
was commissioned by the Abbey Theatre in 1993 and became Murphy's first produced work as a playwright.
He has since gone on to write nine more major plays, the latest being 2015's The Kiss.

Jimmy Murphy saw first-hand a generation of Irish men forced to emigrate to the UK in search of work – usually construction work – and when the Celtic Tiger first made an appearance in the early 1990s he was moved to write a play set in the early days of a new Ireland.
With work suddenly available at home, two of the play's characters return from London to discover that Dublin is building again – but survival isn't going to be easy.
With 25 years' worth of hindsight, including a catastrophic recession,
Brothers of the Brush
takes on a fascinating historical context.

The play boasts four fantastic Irish actors: Stephen Jones, Stephen Cromwell, Gerard Byrne and Luke Griffin. Both Stephens have appeared in RTÉ's Love/Hate and TV3's Red Rock, with Jones also noted for his role in Dublin Oldschool and Cromwell having starred in Conor McMahon's award-winning horror film From the Dark.
Gerard Byrne is best known as former priest Malachy Costello in Fair City, a part he played for fourteen years, while Luke Griffin featured in acclaimed drama Pure Mule.

Verdant, helmed by producer Donal Shiels, has brought hugely successful shows such as
Private Peaceful, Shout!
and, not surprisingly,
The Kings of the Kilburn High Road
also by Jimmy Murphy.
Other recent hits for the company include a stage adaptation of Irvine Welsh's
Trainspotting
and
The Weir
by Conor McPherson.
Brothers of the Brush has been a critical and commercial success

The original production of the play garnered a Best New Irish Play award at Dublin Theatre Festival as well as a Steward Parker Trust Award. It received rave reviews on its first run and went on to play in London, Edinburgh and both US coasts. Murphy's script has even been translated into German and Welsh.
This stunning revival has been described as "a cracker" (Irish Independent) with "explosive dialogue and acting" (Irish Mail on Sunday). It is "a deeply moving, hilariously funny, irresistibly powerful experience" (The Arts Review) which is "built to last" (Sunday Business Post).
___________________________________