Want to book a ticket? Here's how
Online booking
When you visit our website and click "What's On", select the event you wish to attend and follow the instructions. Payment is made through secure online services with Visa or Mastercard.
When booking your ticket online you will receive a confirmation email. For our in-person events, you can download your tickets to your mobile device via the link in the confirmation or reminder emails. For more information about our e-tickets, please follow this link. If you do not click to print out your tickets, they will automatically be at the box office for collection before the performance.
We are now using ticket scanners at Pavilion Theatre. Please ensure that each of your tickets has a clear and visible QR code. When entering the auditorium, please have your tickets ready for inspection.
For our online events, the link to access the event will be sent in advance of each show. If you have not received a link within an hour of the show starting time, please contact Box Office as soon as possible, (01) 2312929.
When booking online, there is an option to give a donation. This donation will be exclusively allocated towards creative projects, artist development and the creation of new work at Pavilion Theatre. Donations can be made at any time. If you would like to make a donation to this fund, please click this link and select the amount you want to donate
When booking online, you will need to include your Eircode. All Eircodes can be found here.
Give us a call – 01 2312929
Our friendly Box Office staff can answer any questions you have about a show and take bookings. Visa and Mastercard are accepted. Tickets are held at the Box Office for collection.
Pop in and see us
Opening times: 2pm-5pm Mon–Sat and 2 hours before each performance.
For a Sunday performance, box office will open 2 hours before the performance time.
Please Note: 30 minutes before a show our Box Office will only be able process tickets for that performance. We cannot process tickets for any other events until the attending audience has been accommodated.
Booking Fees
A booking fee of €1 per ticket will apply for all shows taking place from 1 January 2024. This fee is applied for transactions made online, over the phone, and in person.
Refund and Cancellation Policy
Once purchased, tickets and gift vouchers cannot be exchanged or refunded unless an event is cancelled by the venue. This policy applies to our in-person and online events. This does not affect your statutory rights.
Customers cannot resell unwanted tickets in or around Pavilion Theatre at any time. Please approach Box Office staff if you have an unwanted ticket.
If an event is cancelled and refunds need to be processed, customers will only be refunded by the method of payment at time of initial booking, except where a customer has originally paid with cash. If a customer paid with cash, a refund can be given through the chip and pin machine. If a customer is owed a refund but had originally booked 6 months or more prior to the refund, a member of the Box Office team will need to manually process the refund over the phone or at the desk.
If you miss the original starting time for your online event, it is sometimes possible to access that event for an extended predetermined duration. This is not guaranteed; please check the details of each event prior to booking. If you miss the event, you will not have the option to watch it at a later date, and you will not be entitled to a refund.
Accessibility
It is not possible to book accessible seating online; please contact the Box Office to discuss your accessible needs and to check availability and our staff can advise the most appropriate solution.
The auditorium can provide accessibility for a maximum of 3 wheelchairs. For more information on Pavilion Theatre's accessibility, please click this link.
Gift vouchers
With such a great programme of events at Pavilion Theatre, perhaps a gift voucher is the perfect present. Gift Vouchers can be purchased online at this link, over the phone or in person. Vouchers can be purchased for the following amounts: €10, €20, €40, €50, €100. If you would like your gift voucher posted out to you, contact us in the box office on (01) 231 2929.
If you are unable to redeem your gift voucher online, contact the box office on (01) 231 2929 and we can organise this for you. There will be no booking fee when doing this.
Vouchers can only be redeemed for events that are managed by Pavilion Theatre. This may exclude some external events for which Pavilion Theatre only provides advance ticketing services.
Vouchers cannot be redeemed against items at the bar or merchandise/programmes sold in the foyer.
Conditions of sale
Management reserves the right to refuse admission and to cancel or make any essential changes to performances. Prices and information relating to a show can be subject to change.
Smoking (both cigarettes and e-cigarettes), photography and audio or visual recordings are strictly forbidden in the auditorium. Please ensure all mobile phones are switched off before entering the auditorium.
Pavilion Theatre is the sole vendor of tickets for shows at Pavilion Theatre. Tickets sold elsewhere are liable to be invalidated. Those seeking to gain admission using counterfeit or stolen tickets will be prosecuted.
Customers cannot resell unwanted tickets in or around Pavilion Theatre at any time. Please approach Box Office staff if you have an unwanted ticket.
The Ticketholder is responsible for the care of ticket after purchases. Proof of identity may be requested to verify purchases and confirmation of booking.
Seating Plan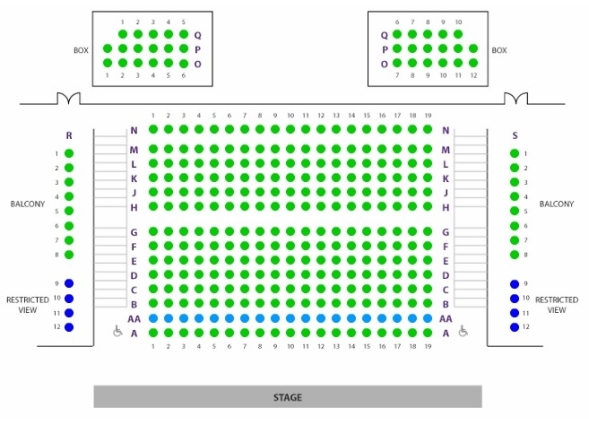 Please note that the stage is not raised and tiered seating begins at row B; rows A & AA are not tiered
Every member of the audience must have a valid ticket.
Customer Care Charter
Pavilion Theatre programmes a diverse selection of shows throughout the year and therefore we greet a wide range of customers each day. This Customer Care Charter outlines the type of service that we are committed to maintaining in order to achieve our high standards of customer care. Click here to view the charter.
Concession Policy
Concessions are available to students, senior citizens (65 years and older) and the unemployed on certain shows. Please check with the Box Office at time of booking. Some family shows will offer a family ticket rate. This is available for a group of four people, which needs to include at least 1 adult and at least 1 child.
Pavilion Theatre also aims to recognise and acknowledge people's differences and support them with their individual needs. Concessionary tickets and carer tickets may be available on certain performances for those with additional needs. Please contact Box Office on (01) 2312929 for more information.
Group Bookings
A 10% discount is available for groups on selected shows; please contact boxoffice@paviliontheatre.ie for more information. If you have a group of 10 or more people and you would like to book in some preshow drinks, please email niall@paviliontheatre.ie and we will see what we can arrange for you.
School Bookings
Special rates for school group bookings apply for selected shows; please contact boxoffice@paviliontheatre.ie for more information.
Latecomer Policy
We encourage all of our patrons to arrive at least 15 minutes prior to every show time. Latecomers are only admitted at the discretion of the theatre. Patrons should note that visiting companies will have differing policies in this regard.
If you arrive late and admittance is possible, we cannot guarantee the seat that you purchased.
For performances that have a strict "no latecomer" policy, we will be unable to allow people to return to the auditorium if they leave during the performance. If you have a medical condition which might require you to leave during a show, please inform staff at time of booking and we will advise accordingly.
Pavilion Theatre reserves the right to refuse admission.
Age Suitability and Restrictions
Certain shows at Pavilion Theatre will have age restrictions based on suitability and content. If you are unsure of the age suitability of a particular show, please contact Box Office in advance of purchasing your ticket. If we feel that an event is not suitable for a person of a certain age, the venue has the right to refuse admission.
Waiting List Policy
We operate a waiting list on most of our sold out events. If any tickets become available more than one day in advance of the show, we will email or call customers on this waiting list.
On performance days, we will not be contacting customers on the waiting list within 2 hours of a performance. If customers are interested in waiting in the foyer preshow for returned tickets, they must make themselves known to Box Office.
Customers will be given a numbered card on a first come, first served basis and these will be called in order from the Box Office should any tickets be returned. These cards can only be received one hour before a show and the customer must stay in the foyer at all times.
Auditorium Policy
While visiting Pavilion Theatre, we ask that everyone treat our venue respectfully. We ask that customers do not put their feet on seats and note that chewing gum is not permitted in Pavilion Theatre. Throughout your time at Pavilion Theatre, the stage and backstage areas are not accessible to audience members. We ask all customers to refrain from venturing onto the stage at all times. If you wish to see someone backstage, please inform a member of staff and wait in the foyer. Our staff will see if it is possible to accommodate your request. Management reserve the right to refuse admission and eject a ticket holder without refund, for behaviour likely to cause damage, injury or nuisance. Management does not accept responsibility for any loss, injury or damage to persons/property on or around the venue. CCTV is in use throughout the venue.
Large Items Policy
For your safety and comfort, large bags, buggies, pushchairs, child carrier seats and other large items will not be allowed into the auditorium. Please speak to the Duty Manager or a member of Box Office staff about storing these items in a suitable part of the foyer, or in one of our offices.
Family Tickets
Family tickets include four tickets, which can include any combination of adults and children (min. 1 child per group). These tickets are only available for certain performances.
Children Policy
All children under the age of 15 must be accompanied by an adult and have a valid ticket.
Children aged 2yrs and under do not need their own ticket for most events but must sit on the accompanying adult's lap.
For a children's event with an age guidance of under 3 years, tickets must be purchased for children within the age guidance range.
Please note that small babies and young children are only allowed attend shows that are advertised as a family/schools' show or as a family friendly local arts performance. Please enquire at the time of booking. This decision is at the venue's discretion. Parents/guardians with a child who is disrupting other patrons will be asked to leave the auditorium to settle the child.
We will not take the personal data of anyone under the age of 18 years of age.
Child Protection Policy
Pavilion Theatre is committed to providing a safe environment and a positive experience for all children with whom we interact. In accordance with guidelines outlined in "Children First, National Guidelines for the Protection and Welfare of Children", we believe that the welfare of children is of paramount importance; thus we have created a very comprehensive Child Protection Policy and Child Safeguarding Statement. For more information on our Child Protection Policy follow this link.
If you wish to receive a copy of this policy, please contact Pavilion Theatre's Operations Manager and Designated Liaison Person for Child Protection: niall@paviliontheatre.ie
Data Protection Policy
Once you have booked tickets with the Pavilion Theatre, your details will be held on our database. If you would like us to send you information about Pavilion Theatre and its programme of events, please let us know at Box Office, or else opt in for our mail and email communications via our website at the time of booking.
If at any stage you don't want to receive information from us, please email boxoffice@paviliontheatre.ie . It's ok; we won't be offended!
If you would prefer to make a booking without giving us your details, that's fine too. Simply visit our Box Office or phone us and we can make the booking without any details. Please note that if you prefer to not give us details, we won't be able to contact you if there are any changes to the event. Keep an eye on our website or social media for the most up-to-date event information.
You can read our full Cookie and Privacy Policy here, which will aim to help you understand what data we collect, why we collect it, what we do with it and how long we retain it for.
Counterfeit Tickets Policy
If we suspect that any ticket is potenially counterfeit or has been tampered with in any way, it is Pavilion Theatre's policy to inform the Gardai about this incident and to conduct an investigation into the matter.
Complaints and Comments Procedure
For more information, please contact the Operations Manager, niall@paviliontheatre.ie
Free Wi-fi
We have complimentary wi-fi for all of our customers. Just ask at Box Office for the password.
Lost & Found
For information on Lost & Found click here
Trademarks
Unless otherwise indicated, all graphics, logos and commercial markings are registered trademarks. You may not use, copy, reproduce, republish, upload, post, transmit, distribute or modify any Trademarks in any way, including in advertising or publicity pertaining to or distribution of materials, without prior written consent.
Changes to T&Cs
Pavilion Theatre reserve the right to make changes to these Terms & Conditions at any time without prior notice.
General Data Protection Regulations (GDPR)
Pavilion Theatre is fully GDPR compliant. Please check the Cookie & Privacy policy on our website for more information.
For more information about your rights as a customer, please check the Data Protection Commission website