5 reasons to see Furniture by Sonya Kelly
13 March 2019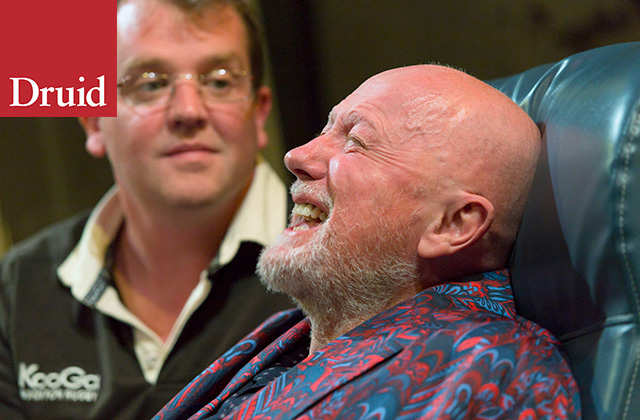 Here are just five reasons you should see this fanstastic comedy play...
_____________
Furniture was written by Sonya Kelly

Blackrock native Sonya Kelly is playwright as well as an actor. Her debut play which she wrote and performed in, The Wheelchair on My Face, won a Scotsman Fringe First Award for new writing at the Edinburgh Fringe 2012 and received a Critics' Pick in the New York Times.
After he success from her debut play, she continued with How to Keep an Alien (Best Production Award Dublin Fringe 2014) and a short play The Pet Sitter (The Abbey Theatre Future Tense Series).
She has also written two plays for the Collapsing Horse Science Fiction Radio Hour and has contributed to Arena on RTÉ Radio 1.
Furniture is produced by Druid

Druid is an award-wining theatre company from Galway. Founded in 1975, this theatre company has years of experience in bringing high-quality work to both Irish and international audiences.
Druid has also made history with their productions. In 1996, Druid premiered Martin McDonagh's debut play The Beauty Queen of Leenane in a co-production with the Royal Court Theatre. Opening in Galway and performed in London, Sydney, Dublin and Broadway, the production won four Tony Awards, including Best Director for Garry Hynes (co-founder and Artistic Director of Druid), the first ever woman to win that award for directing in the history of the Tonys.
Furniture is a hit with critics and audiences

Furniture
was a hit with the audiences at
Galway International Arts Festival
. Each sold-out performance recieved a standing ovation and long queues at the box office were a regular occurance.
It was also a huge hit with critics, with the Irish Independent calling it "whip-smart" and a four-star review in the Irish Times.
Furniture has a fantastic cast

There a quite a few familiar faces in
Furniture's
cast.
Niall Buggy
was most recently on our stage just weeks ago in
On Blueberry Hill
by Sebastian Barry.
Some may recognise Kate Kennedy from her role as Helena in A Midsummer's Night Dream on BBC One, while Garrett Lombard feautured regularly in the popular RTÉ miniseries Pure Mule.
Ruth McGill has numerous big- and small-screen credits including Irish film What Richard Did, and last appeared at Pavilion Theatre in the cast of the Performance Corporation's The Dead.
After a sell-out week with Postcards from the Ledge, we are very excited to have Rory Nolan back with us for another hilarious production.
Helen Norton, a staple of stage and screen in Ireland, was applauded for her role as domestic abuse victim Vivenne Bishop in RTÉ's Fair City. Her authentic portrayal prompted a wave of public awareness and support around this difficult issue.
These are Furniture's only Dublin dates

Although
Furniture
is touring around Ireland in the coming weeks, Pavilion Theatre is the only venue in Dublin that is hosting this laugh-out-loud production.
_______________