Meet the Cast of Speed-the-Plow: Tara Egan Langley
30 March 2023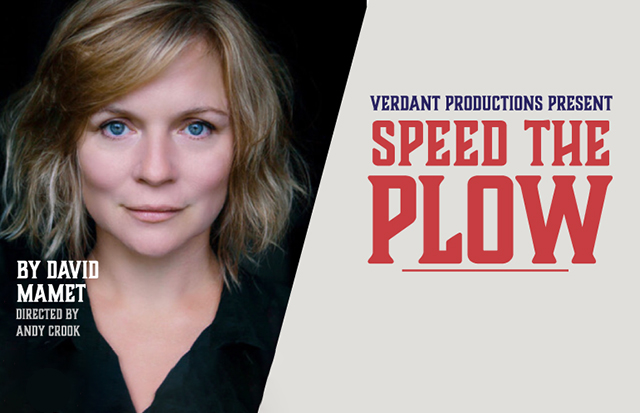 Speed-the-Plow will be staged at Pavilion Theatre Thu 13 - Sat 15 Apr at Pavilion Theatre. With permission from David Mamet (Glengarry Glen Ross, Wag The Dog), Andy Crook directs this exciting, all new version of the classic Hollywood satire.
This re-imagining of David Mamet's 1980s hit play turns the dynamic on its head as the genders of the protagonists are reversed. Starring Tara Egan-Langley as Bobby Gould, Jolly Abraham as Charlie Fox and Macleod Stephen as Kevin/Karen. We got to know each of the cast in advance of the show!
First up, it's Tara...
________________________________
Can you tell us a bit about you? Where did you grow up?
I was born in london and grew up near Aughrim, Co Wicklow.
Tell us about your background in the arts?
I trained at The Royal Irish Academy of Music and at The Gaiety School of Acting. Since then, I have worked extensively on stage, screen and the vocal booth. Most recently, I have toured with Dead Centre Theatre Company's 'Chekhov's First Play' – venues included Russia, Hong Kong, London and New York.
What can Dún Laoghaire audiences expect from Speed-the-Plow?
A funny and fiery look at the movie industry!
Tell us a random fact about yourself?
Aged 4, I broke my leg while trying to do ballet on a window sill.
What's next for you?
Speed The Plow in Tallaght, Cavan and Drogheda! Working on some music for a new play, Freefall by Georgina Miller, being produced this summer.
________________________________
See Tara on stage! Tickets for Speed-the-Plow are available to book right now at this link.
This article first appeared on The Civic website and is reproduced here with kind permission.