'Nirbhaya' Post Show Talks Announced
14 July 2014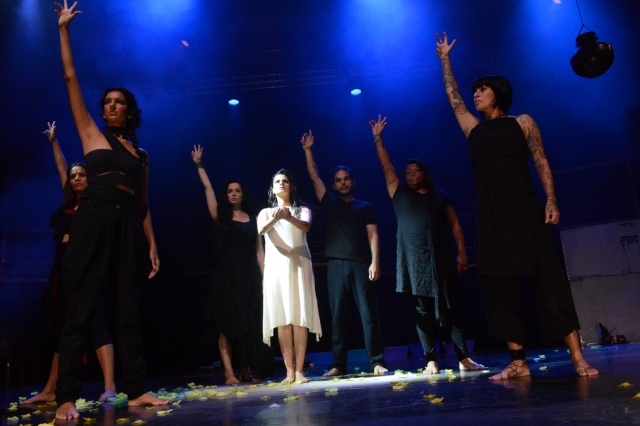 NIRBHAYA POST-SHOW TALKS
We are delighted to present two post-show discussions during the run of NIRBHAYA at Pavilion Theatre, Dún Laoghaire.
The discussions will take place following the performances on Tuesday 22nd July & Tuesday 29th July.
Tickets are available for both performances online and from Box Office: 01- 231 2929
Book Now Online
Post-Show Panel: TUESDAY JULY 29
Colm O'Gorman | Executive Director, Amnesty International Ireland
Colm O'Gorman is an author, an activist and the Executive Director of Amnesty International Ireland, a role he was appointed to in 2008. Prior to that, he founded and headed up the charity, One in Four, which supports men and women who have been sexually abused and/or suffered sexual violence. Colm's work as a human rights defender is driven by a deep commitment to human rights and social justice and an abiding belief in the power of advocacy and activism, which challenges all of us to use our individual and collective voices to demand change where it is most needed.
http://www.amnesty.ie
Elaine Mears | RCNI Data and Services Information Manager
Elaine Mears is the Data and Services Information Manager for Rape Crisis Network Ireland. Elaine provides ongoing support and up-skilling to all frontline services using the RCNI Database. Elaine also organises and delivers database training; coordinates national data cleaning; carries out data analysis using SPSS; produces RCNI Statistics reports; tests database software updates; and coordinates the ongoing development and expansion of the RCNI Database. She holds a BA in English, Media and Cultural Studies and an LL.M in International Human Rights Law.
http://www.rcni.ie
Alan O'Neill | CEO Men's Development Network
Alan O'Neill, Dip. Arch.(Dist.), B.Sc.(Hons), MA, is the CEO of the Men's Development Network (MDN).
Over the last 17 years Alan has established MDN as the leader on men's development in Ireland and abroad. Alan has represented MDN and it's methodologies in the UK, Europe, the USA and Australia.
MDN now delivers men's programmes in development, health, training, violence intervention, counselling, equality and equity and for men with particular issues. MDN is the national promoter of the White Ribbon Campaign in Ireland.
Alan was in his first men's group in Dublin in 1971. He is married for 35 years and has three adult sons. He is the author of a booklet and two books on MDN's work; "7 Key Questions for Men" (2012), "Supporting Men in Challenging Times" (2013) and "A New Conversation with Men" (2014).
http://www.mensdevelopmentnetwork.ie
Last week's post show:
Post-Show Panel: TUESDAY JULY 22
YAEL FARBER | Writer & Director
Yael Farber is a multiple award-winning director and playwright of international acclaim. Her productions have toured the world extensively - earning her a reputation for hard-hitting, controversial works of the highest artistic standard. Her more recent productions, MIES JULIE & NIRBHAYA have won a string of international awards. Her most recent work NIRBHAYA premiered at the Edinburgh Festival 2013 – focussing on the rape and death of Jyoti Singh Pandey - which caused an international outcry.
http://www.farberfoundry.com/farber.php
Anne Scully | Director of Waterford Rape Crisis and Sexual Abuse Centre and RCNI Chairperson
Anne Scully has worked in the Rape Crisis sector since 1995 when she trained as a volunteer counsellor. Prior to that she worked for the Victims of Crime Association in Brisbane Australia for several years. She has been Manager of the Waterford Centre for the past three years and became Chair of Rape Crisis Network Ireland last year.
http://www.rcni.ie
Tom Meagher | National Advocate for the White Ribbon Ireland Campaign
Tom Meagher is Ireland's national advocate for the White Ribbon Campaign, which is the world's largest male-led movement to end violence against women. Tom's powerful online blog can be read here http://whiteribbonblog.com. You can find more information about the White Ribbon campaign here
http://www.whiteribbon.ie
Olga McDonogh | CEO ActionAid
Olga McDonogh has been CEO of ActionAid for seven years. She has a wide variety of direct programme experience from her time working in Sri Lanka, Lesotho, West Africa, Cambodia, Laos, Vietnam and Rwanda. Olga's interests and areas of expertise are International Development, Women's Rights, Education and Governance
http://www.actionaid.ie
Tickets are available for both performances online and from Box Office: 01- 231 2929