Only Chance To See All Three Fishamble Plays - Forgotten, Silent & Underneath
18 February 2015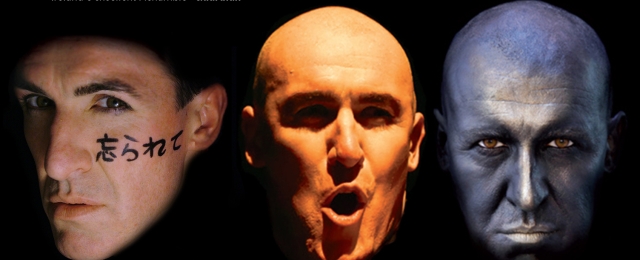 After almost ten years of touring nationally and internationally, to great critical acclaim, Fishamble make a welcome return to Pavilion Theatre next week with their first ever trilogy of plays - written and performed by Pat Kinevane and directed by Jim Culleton.
These three plays are full of Kinevane's characteristic humour and darkness, matched with his unique performance style and the expertise of Fishamble.

"Kinevane [is] an artist of the theatre" New York Times
★★★★★ The Scotsman
★★★★★ The List
★★★★★ The Herald
Following the runaway, international success of
Forgotten
(Wed 25 Feb) and
Silent
(Thu 26 Feb)
, Fishamble now also bring their remarkable new one-man-show
Underneath
(Fri 27 Feb)
, which has premiered to rapturous applause and standing ovations for Kinevane's tour-de-force performance. If you've seen and loved Pat's previous pieces, then you won't be disappointed. And if it's the first piece, then you're in for something special. Don't miss your chance to see all three plays in one venue.
Currently we only have a handful of tickets left for
Underneath
(Fri 27 Feb) and tickets are selling fast for
Forgotten
(Wed 25 Feb) and
Silent
(Thu 26 Feb) - Book early to avoid disappointment.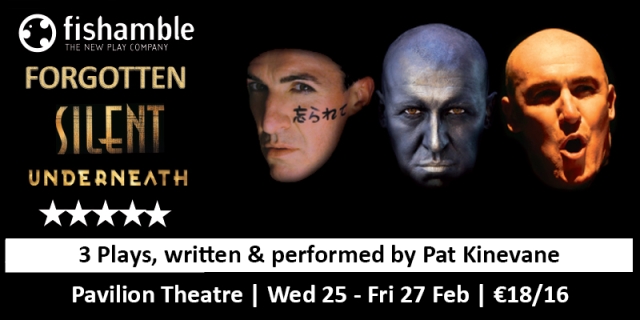 BOOK NOW
Call our Pavilion Theatre Box Office on 01-2312929 (12-5pm, Mon - Sat) or book online
Director's Note
Pat Kinevane wrote his first play, The Nun's Wood, for Fishamble in 1998, followed by The Plains of Enna in 1999. In 2006, Fishamble produced Pat's first solo play, Forgotten, and this was followed in 2011 by his second solo play, Silent. In all his plays, Pat is fearless and brave in the way he tackles issues that are close to his heart, and this is matched by his wicked sense of humour and inventive theatricality.
When we embarked on the productions of Forgotten and Silent, we had no idea that they would tour, not just across Ireland, but throughout Europe, Australia, and the U.S. There is something so truthful and full of passion in Pat's writing and performance, that connects with people, no matter where they are from.
In 2013, Pat and Fishamble started developing his third solo play, Underneath, which we were delighted to premiere in December as part of Limerick City of Culture. The play explores prejudice, beauty and how we treat people according to their appearance; it does this with all of the joy, anger, playfulness and power that we have come to expect from Pat's writing.
We have just begun a nationwide tour of Underneath and are delighted that audiences around the country are connecting with this play about a woman who looks like a man in as strong, provocative and entertaining a way as they did with Forgotten and Silent.
It is always a pleasure to perform at the Pavilion, as Fishamble has done recently with Forgotten, Silent, Swing, The Bruising of Clouds and Guaranteed! We are delighted to be back with Underneath, playing together with Pat's other two solo plays on consecutive nights, and hope that audiences in Dun Laoghaire will enjoy coming on this adventure with Fishamble and Pat Kinevane once more.
Jim Culleton -
February 2015