Patron Donation Award 2019 - Announced
05 March 2019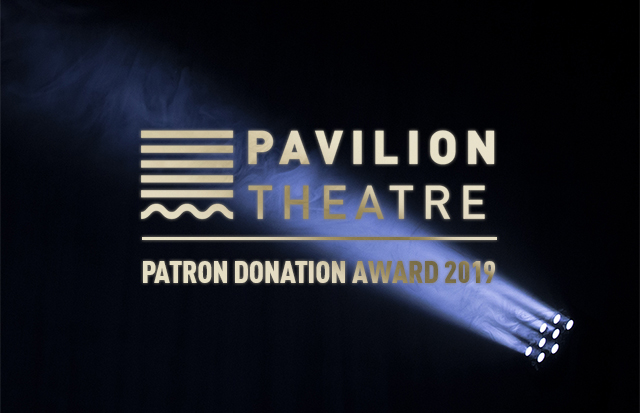 Patron Donation Award 2019 - Announced
Pavilion Theatre is delighted to announce this year's Patron Donation Award recipients:
Clare Monnelly and Livin' Dred
Danielle Galligan and Gavin Kostick
Kellie Hughes
Landmark Productions
Rory Nolan
Initiated in 2015, our Patron Donation Award supports individual artists and companies to develop and complete projects which are original and ambitious and which, at the same time, demonstrate relevance to Pavilion Theatre's audiences.
The award is made possible by the generous private donations of Pavilion Theatre's loyal patrons. Their contributions are allocated to a special artists' fund to enable the creation of new work and to support the development of artists. The fund this year is €26,000.
On announcing the 2019 awards Hugh Murray, Director of Pavilion Theatre, described the field as strong and highly competitive with 60 applications from across the performing arts.
He said, "We believe that supporting the development of bold, original work is an important part of our role at Pavilion Theatre and we are really excited to be supporting these five exceptional projects which have such resonance for Pavilion and in particular for our audiences and generous patrons. We look forward to growing our relationship with the artists and to supporting the development of such important and interesting work in the coming year."
This year's recipients each contributed a few words:
"This continued support is invaluable to moving the project forward & will enable us to bring together a really exciting gang of artists for this next step of the process" – Clare Monnelly

"We really feel encouraged by the validation that this award represents and very much appreciate Pavilion Theatre taking the risk of engaging with us in the early stages of the creation of the work" – Danielle Galligan and Gavin Kostick

"Having this opportunity really helps to inform your work before going to full production. Thank you to the audience of Pavilion Theatre for your support!" – Kellie Hughes

"I am hugely grateful to Pavilion Theatre - and to its patrons, whose generous support makes this award possible - for this bursary, which will enable Landmark to develop and explore the staging of a compelling new piece of theatre." – Anne Clarke, Landmark Productions

"To work solely and completely on one's own piece these days is tricky, to say the least, and being part of such a wonderful, important award can only help to get ideas out of artists' heads and onto the stage" – Rory Nolan
Now in its fifth year, this programme has already helped finance numerous projects including 23 recipients of the Patron Donation Awards, Colin Murphy's Bailed Out!, Monkeyshine Theatre's Little Light , Pavilion Theatre's Culture Night programme since 2014, and the wonderful History of the Pavilion exhibit by Kate Heffernan.
________________________________________________________________
This year's group will be joining our previous Patron Donation Award recipients, as follows…
2018: Branar, Bombinate Theatre, Iseult Golden
2017: Margaret McAuliffe, Jacinta Sheerin, Anna Newell, Christian O'Reilly, Gillian Grattan, Janet Moran, Una McKevitt, Lords of Strut.
2016: Noelle Brown, Stefanie Preissner, Abbie Spallen, Conall Morrison, Louise White, Andrew Flynn
2015: Replay Theatre Company, Sonya Kelly, Willfredd Theatre, Kevin Gildea, One Duck Theatre Company, Luke Murphy