Pavilion Play Platform 2020-2021: Announced
10 December 2020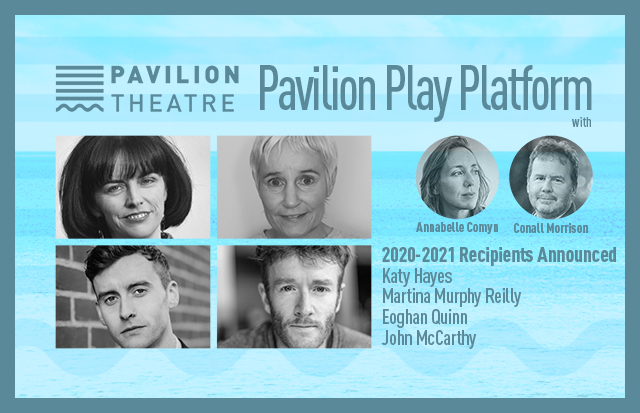 After an unprecedented volume of applications and a lengthy selection process, Pavilion Theatre is thrilled to announce the four recipients of the Pavilion Play Platform: Katy Hayes, Martina Murphy Reilly, Eoghan Quinn and John McCarthy.
Their exciting new plays will be workshopped into fully cast readings, directed by leading Irish theatre practitioners Annabelle Comyn and Conall Morrison.
December 2020 workshops and readings
The Interview by Katy Hayes (directed by Conall Morrison) with Catherine Walker & Conor Mullen
In-between by Martina Murphy Reilly (directed by Annabelle Comyn) with Liam Carney, Deirdre Donnelly, Ruth McCabe & Eavan Gaffney
Spring 2021 workshops and readings
Colic by Eoghan Quinn (directed by Annabelle Comyn)
The BelleVue by John McCarthy (directed by Conall Morrison)
Comments from the writers

Katy Hayes: "The Pavilion Play Platform is a sweet opportunity for me to engage dynamically with my new play before this rotten year ends. Having actors and a director, with all their mysterious and magical skills, put the play over the jumps will be a super way to assess its merits and flaws. Looking forward to this opportunity for illumination in the dark days of December."
Martina Murphy Reilly: "I am thrilled to have been chosen because I relish the idea of working with other creative people in order to help my play realise its full potential. Writing is such a solitary process that to get this validation is really encouraging."

Eoghan Quinn: "It means a lot to me that this play has been chosen for the Pavilion Play Platform; I'm a big admirer of Annabelle's work so the chance to workshop it with her is really exciting. And as someone who grew up in the area, I'm looking forward to workshopping this play at Pavilion Theatre"

John McCarthy: "I'm so pleased to get this opportunity to work with Conall Morrison and to be doing so at the Pavilion - the play demands a lot in its scale so it's all the more thrilling to have that ambition met so readily here. I can't wait!"
We congratulate all four and look forward to working together over the coming weeks and months.