Pavilion Recommends IMRAM's Dylan Gospel Project/Tionscadal Gaspal Dylan
17 October 2018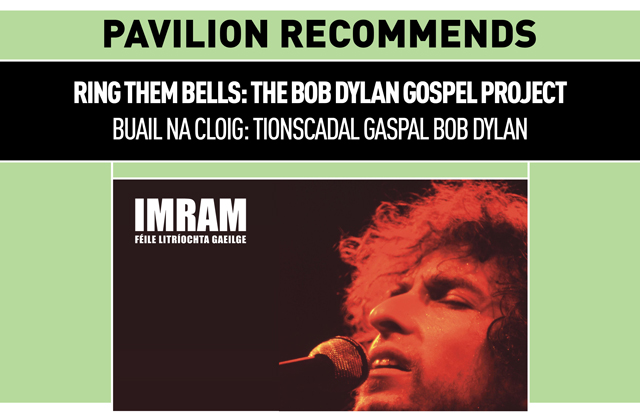 In the late 1970s Bob Dylan shocked his fans by converting to born-again Christianity and releasing three albums of funky fire-and-brimstone gospel music. His live gospel concerts showcased the most passionate singing of his career.
IMRAM's latest musical project,
Ring Them Bells/Buail na Cloig (Thu 18 Oct)
, draws from these albums, and other gospel-themed songs from his career, such as Señor, Knocking on Heaven's Door and Ring them Bells with lyrics translated into exquisite Irish by poet
Gabriel Rosenstock
.
The songs will be performed by singers Liam Ó Maonlaí (Hothouse Flowers), Emma Garnett, Esosa Ighodaro and Zeenat Sarumi; Rod McVey (organ); Peter O'Toole (guitar); Bill Shanley (guitar); Al Carver (bass); and Brian Rice (drums).
___________________
THE ALBUMS

After a fan threw a silver crucifix onstage during a particularly gruelling stop on his 114-date 1978 world tour, Bob Dylan began a journey into born-again Christianity.
Brimming with newfound enthusiasm, Dylan recorded two albums of gospel-inspired songs (Slow Train Coming and Saved), played songs exclusively during his 1979 and 1980 tours and even discussed his faith on stage with the audience.
Bono's favourite Dylan record, Shot of Love, appeared in 1981. Carrying on the gospel aesthetic of its predecessors and featuring a career-best vocal performance, it nevertheless featured a more even mix of born-again and secular material. Dylan's transition back to a more familiar musical approach was fully realised on 1983's Infidels.
THE FESTIVAL

According to festival director Liam Carson:
"The word IMRAM can mean a 'voyage of discovery' and the festival takes its audiences on a magical journey that reveals the depth and diversity of modern literature in Irish, through eclectic and imaginative event programming that fuses poetry, prose and music in lively venues. IMRAM has also featured film, drama, puppetry, debates, lectures, and writing workshops for both adults and children.
IMRAM's core mission is to bring writers and readers – and particularly new readers – together.
IMRAM's message is positive – and places the Irish language and its literature at the heart of public life within a modern, energetic and multicultural framework. IMRAM also works as a highly effective publicity mechanism that attracts much-needed media attention to Irish language writers and books.
IMRAM has built on its success year-by-year, building audiences, and bringing Irish language literature to the streets of Dublin, in an annual festival that is now an integral part of the city's cultural life."
___________________