Pavilion Studio 2023 - Announced
03 February 2023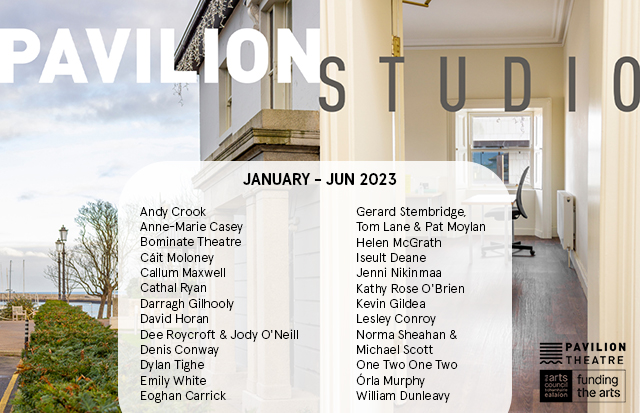 Pavilion Studio is a space near Pavilion Theatre for emerging and experienced creatives to develop existing work or create new work. Following a hugely successful first year in 2022 and an unprecedented number of applications to our callout in December, we are delighted to announce the list of artists who have been offered weekly residencies between January and June as part of Pavilion Studio 2023.
Andy Crook
Anne-Marie Casey
Bominate Theatre
Cáit Moloney
Callum Maxwell
Cathal Ryan
Darragh Gilhooly
David Horan
Dee Roycroft & Jody O'Neill
Denis Conway
Dylan Tighe
Emily White
Eoghan Carrick
Gerard Stembridge, Tom Lane & Pat Moylan
Helen McGrath
Iseult Deane
Jenni Nikinmaa
Kathy Rose O'Brien
Kevin Gildea
Lesley Conroy
Norma Sheahan & Michael Scott
One Two One Two
Órla Murphy
William Dunleavy
Tweet from Pavilion Studio artist Helen McGrath
The Studio has been described as "a wonderful creative space", "ideally arranged, overlooking the sea", with the residencies having "greatly accelerated the timeline of [artists'] work" with the experience making participants feel "seen and, something all-too-rare, valuable as an artist".
We are thrilled to be able to support artist development through these residencies and look forward to more exciting development taking place for the remainder of 2023.
Pavilion Studio is made possible by the kind support of the Arts Council of Ireland.