Second Callout: Pavilion Studio 2023
05 July 2023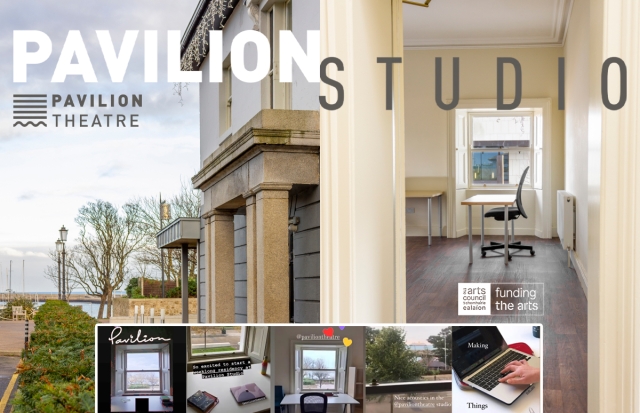 Following 18 months of residencies supporting nearly 100 creatives, Pavilion Theatre is once again looking for playwrights, makers in theatre and stage-based artists to apply for use of Pavilion Studio to develop existing work or create new work.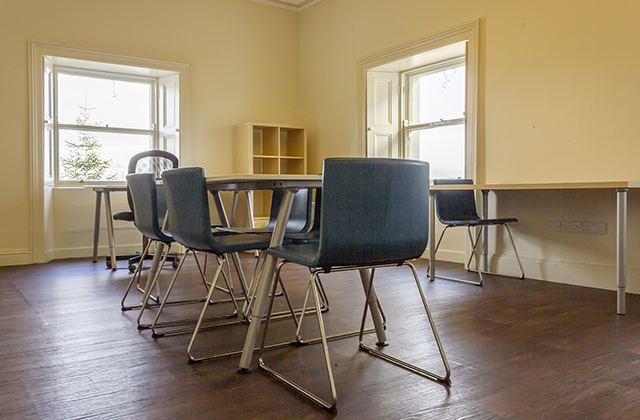 Successful applicants will be awarded one-week (Monday to Friday) residencies at Pavilion Studio located in Moran Park House above the Irish Design Gallery, Dún Laoghaire. It is our intention to offer payment to artists for their time at Pavilion Studio (subject to budget).
The Programme to Date
Following an open calls in February, June and December 2022, the following artists were awarded one-week residencies at Pavilion Studio:
Alan Howley, Amy Flood, Andy Crook, Anne-Marie Casey, Barbara Tarrant, Bominate Theatre, Brigid O'Dea, Callum Maxwell, Cara Christie, Cathal McGuire, Cathal Ryan, Chloe O'Reilly, Charlene Craig, Chloë Ní Mhurchú, Cian Malin & Martha Knight, Ciara Elizabeth Smyth, Cliodhna McAllister, Cáit Moloney, Daniel Wade, Darragh Gilhooly, David Horan, Dee Roycroft & Jody O'Neill, Denis Conway, Dominic O'Brien & CN Smith, Dylan Tighe, Emily White, Eoghan Carrick, Gerard Stembridge, Tom Lane & Pat Moylan, Gillian Grattan, Grace Morgan, Helen McGrath, Iseult Deane, James O'Donnell, Jenni Nikinmaa, Jimmy Murphy, John King, Kathy Rose O'Brien, Ken Harmon, Kevin Gildea, Laoise Murray, Lesley Conroy, Liam McCarthy, Meadhbh Maxwell, Niamh Lawlor, Niamh McCann, Norma Sheahan & Michael Scott, One Two One Two, Órla Murphy, Pea Dinneen, Peter Reid, Philip St John, Sara Keating, Shauna Carrick, Signe Lury, Tzarini Meyler and William Dunleavy.
The Studio has been described as "a dedicated space to be creative in beautiful surroundings", "[a] hallowed space and time to further develop a [my] work", with the residencies having "greatly accelerated the timeline of [artists'] work" and the experience making participants feel "very welcomed [...] but also felt the freedom to manage our time according to our various commitments".
The Space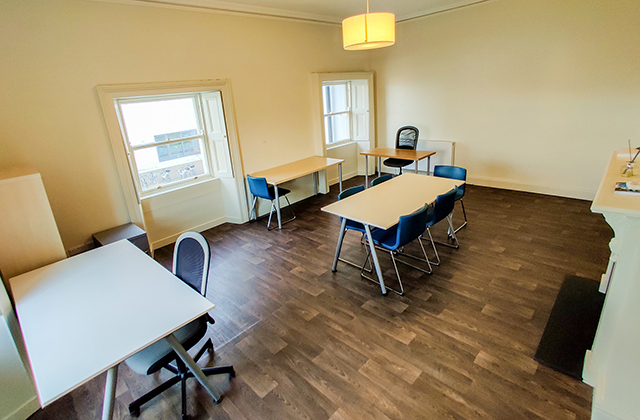 The room itself is bright and comfortable, overlooking Dún Laoghaire Harbour and the dlr LexIcon library. It is an open, calm, functional space for artists to use as they wish; a blank canvas for inspiration. It might be used for writing, meetings, or small-scale production readings and development.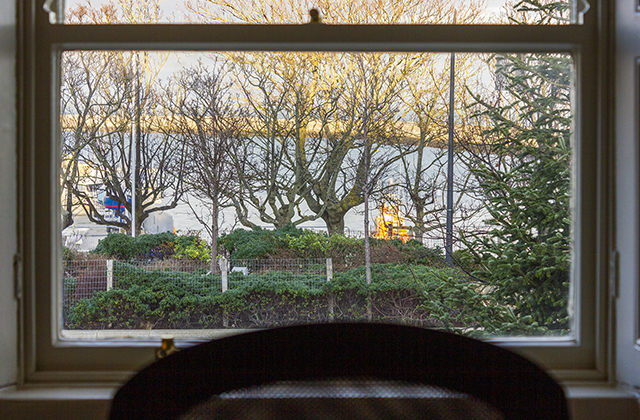 Kitchenette facilities and Wi-Fi connectivity are available, with the sea, library, Dún Laoghaire Town and Pavilion Theatre itself all a stone's throw away.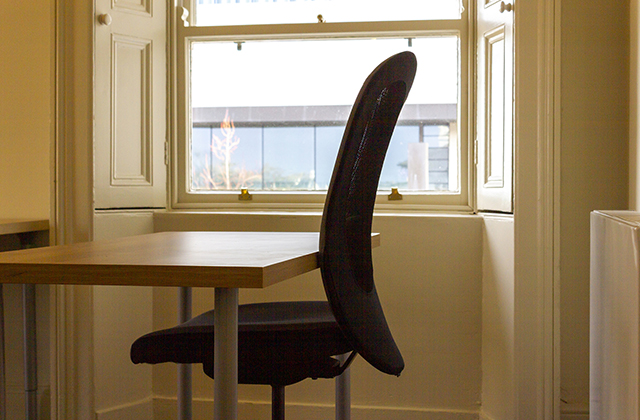 Pavilion Studio is only accessible by stairs; however, an alternative space can be made available for artists with accessibility requests. Those using the studio must be mindful of occupants in surrounding rooms and those on lower floors.
How to Apply
Pavilion Studio is available from Monday 21 August until Friday 22 December 2023. Each residency is 5 days (Monday to Friday).
Applicants should submit a maximum of one page to include
their suitability for the use of the space and preferred dates
brief track record/background of the artist/company
a summary of the work they intend to create or develop. We will take under consideration its suitability for future programming at Pavilion Theatre
preferred dates and a proposed timetable of who will be present for the week and for how long - including details of any collaborators if working with others

NB: This information will determine the available budget and allocation of time slots
If collaborators have yet to come on board, please include their role instead (e.g., one half-day with Dramaturg)
Applications (in PDF or document format) should be attached and sent to studio@paviliontheatre.ie - including your artist name/company in the subject line. Pavilion Theatre will not be in a position to enter into correspondence with applicants or offer feedback at any stage of the process.
Those who have previously applied for a residency at Pavilion Studio are welcome to re-apply. If you require additional financial support for the purposes of childcare during a residency, please state this in your application.
Key Dates
Applications close Friday 4 August 2023
Applicants will be notified within two weeks of the closing date
The period covered by this callout is Monday 21 August to Friday 22 December 2023
Pavilion Studio is made possible by the kind support of the Arts Council of Ireland.