Summer Family Fun at Pavilion Theatre
04 July 2023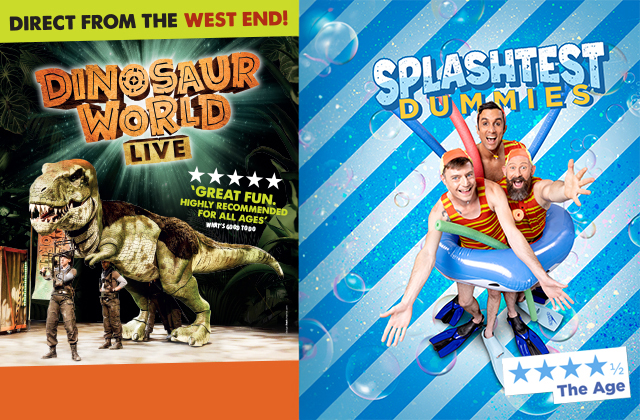 Looking for something to do with the kids? Dinosaur World Live and Splash Test Dummies are back-to-back summer family fun here in Dún Laoghaire!

Straight from the West End, Dinosaur World Live are making their way to Dún Laoghaire for their roarsome interactive show.
Join our intrepid explorer on a dino-mite adventure across uncharted territories to discover a pre-historic world of astonishing (and remarkably life-like) dinosaurs.
Meet a host of Dinosaurs, including every child's favourite, the Tyrannosaurus Rex, a Triceratops, Giraffatitan, Microraptor and Segnosaurus!

Splash Test Dummies are coming to Dún Laoghaire for some Splish splashing fun.
All the way from Australia, they're bringing creations of quality that are intelligent, theatrical and inventive. Expect hilarious acrobatics, juggling and slapstick comedy from this award-winning show.
The Dummies are ready to roll out their beach towels and spring into an exciting hour of circus-filled hilarity for the whole family.
___________________________________________________________________________________
Tickets for Dinosaur World Live and Splash Test Dummies are available right now – just click here or call (01) 231 2929.