Cultural Activities from the comfort of your own home
22 September 2020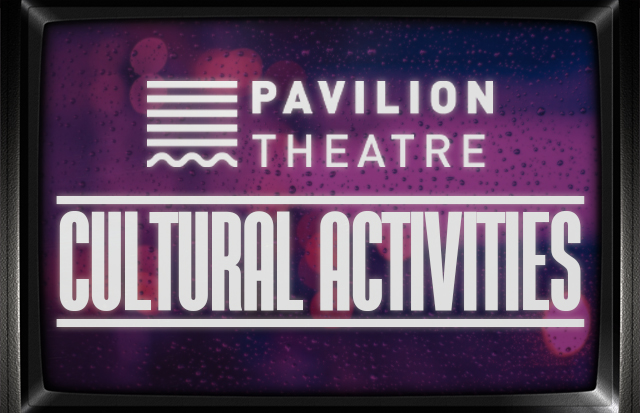 Updated Tue 22 Sep 2020:
Pavilion Theatre remains closed, so while we can't keep you entertained in our usual way, we've been scouring the internet for the best cultural activities you can access from the comfort of your own home.
There are free theatre, opera and film events, online classes and activities for little ones! Hopefully this will help to stave off cabin fever while we all do our bit to stay indoors and flatten the curve.
We'll be keeping this blog updated every week so be sure to save this link or check our website homepage for updates.
In the meantime stay safe and well!

Joyce Theater
As part of their
JoyceStream series
, New York's Joyce Theater is streaming some stunning dance productions.
Coming up next:
Dublin Festival of History
This year's festival will be going mostly digital but with a fantastic programme of free events including talks, walks, exhibitions, virtual tours and podcasts. Running from
Wed 9 Sep until Sun 4 Oct
, you can
check out the full line up of events here.
Coming up next:
House of Glass
- The Story & Secrets of a 20th Century Jewish Family (Hadley Freeman in conversation with Sarah Carey):
Fri 25 Sep, 7pm
The Royal Opera House Stream
Following on from the success of their #OurHouseToYourHouse lockdown series, the Royal Opera House are now bringing live events from their stage to your home once more, with two packed evenings of opera and ballet.
Find out more and book your tickets here.
Coming up next:
Sydney Opera House Digital Season
Cirque du Soleil
The world-famous performing troupe are releasing excepts from their best-loved productions as 60-minute premieres on their
YouTube channel
.
Galway International Arts Festival
Galway International Arts Festival's Autumn Edition 2020 programme will take place this September and October. With both live arts and an enhanced digital component audiences can look forward to theatre, musi, talks, visual arts and more.
Take a look at the full programme here.

Old Vic: In Camera
Old Vic: In Camera is a new artistic initiative of socially distanced performances all streamed live from the iconic Old Vic stage with the empty auditorium as a backdrop.
Coming up next:
Southwark Stayhouse
Coming up next:
The Metropolitan Opera: Nightly Opera Stream
Every night this week, The Metropolitan Opera will release live recordings from their performance archives. The operas go live each night at 12.30am on the
Met's website
and are available to watch for 23 hours.
Coming up next:
Puccini's Manon Lescaut: Thu 24 Sep, 12.30am
Puccini's Madama Butterfly: Fri 25 Sep, 12.30am
Puccini's Tosca: Sat 26 Sep, 12.30am
Puccini's Turandot: Sun 27 Sep, 12.30am
Puccini's La Bohème: Mon 28 Sep, 12.30am
Watching Rosie by Louise Coulthard
Starring BAFTA winning actress Miriam Margolyes this heartbreaking and hilarious online play is a tender portrayal of experiencing dementia in lockdown and the power of love to overcome it. Available to watch until Wed 30 Sep.
Find out more and register here.
National Theatre of Scotland: Scenes for Survival
The prestigious Glasgow venue is producing an ambitous series of more than 50 digital performances inspired by the current crisis, pairing high-profile writers, actors and directors. You can
watch back all pervious performances here
.
Beckett Double Bill | Krapp's Last Tape & The Old Tune
This never-before-seen archive recording from London's Jermyn Street Theatre, features two of Samuel Beckett's short plays, directed by Trevor Nunn and featuring Niall Buggy. As funny as they are poignant, these works demonstrate Beckett's remarkable range, inventiveness, and wit.
Find our more and rent it here.
Irish National Opera
Irish National Opera have made a selection of their recorded performances available to watch for free online, including
Orfeo Ed Euridice, Madama Butterfly, Acis & Galatea
and
The Barber of Seville.
Click here to watch them now.

KEXP Live at Home
From the Vault: Jazz at Lincoln Center
Every Wednesday at 1.30pm, Jazz at Lincoln Center is releasing previously unseen video content from its archival "vault" via the Jazz at Lincoln Center Channel on YouTube.
The Swing Era - Revolution in Rhythm:
Watch Now
Music Network: Dave Flynn
dlr Arts Office and Music Network are presenting the online world premiere performance of "Dún Laoghaire Guitars", a new composition by Dave Flynn, Dún Laoghaire-Rathdown County Council's Musician-in-Residence 2020. The piece draws inpiration from the local area, including the harbour, piers and DART line:
Watch Now
NPR Music's The Tiny Desk concerts are being recorded from home for the foreseeable future, bringing you performances from across the country and the world. It's the same spirit — stripped-down sets, an intimate setting — just a different space.
Check out all the Tiny Desk Concerts here.

#ConcertsForKids (Lincoln Center)
Coming up next:
Lincoln Center Pop-Up Classroom
Draw with Don!
Beloved artist Don Conroy, best-known for his long-time stint on RTÉ's The Den has officially launched his own YouTube channel! Over the coming weeks he will provide free drawing tutorials for both children and adults so
tune in here and get creative!
Project Puppet: Online Workshop
As part of Cruinniú na nÓg 2020 - the national day of creativity for young people - we hosted a series of free online workshops which guided children through the process of storytelling and puppet making. You can now watch back all four workshop videos online -
find out more here.
Families can now tune in to dlr Libraries Storytime online – at 10.30am, Monday to Friday on their
Facebook page.
Shorts for Wee Ones & Middle Ones
I Wish I Was a Mountain
With wonder, wit and sophisticated storytelling, performance poet Toby Thompson creates a beautiful show for over-sevens using rhyme, live music to re-imagine Herman Hesse's classic fairytale
Faldum
.
Watch Now
There's a Sea in my Bedroom
Weaving captivating storytelling with an original score performed by the Australian Chamber Orchestra,
There's a Sea in My Bedroom
is an immersive introduction to live music, capturing the magic of a child's fantasy world.
Watch Now
Little Angel's Puppetry Sofa Series
While their doors are closed, Little Angel Theatre have released a series of short puppet shows for children on their YouTube channel, including an adaptation of Jon Klassen's picture book trilogy
I Want My Hat Back
.
Watch them all here.
Sydney Opera House Digital Season
The Sydney Opera House have taken a deep dive into their archives and are releasing a weekly digital programme of unmissable performances fro families to enjoy at home.
Keep an eye on what's available here.

Island Songs – A film by Baldvin Z & Ólafur Arnalds
This unique audio-visual portrait of Iceland explores these 7 local artists, the influence the country has had on their lives and shows a different side of the island they all call home. This screening of the film feautre songs along with interviews with collaborators, personal commentary and behind the scenes stories:
Watch Now
MUBI
MUBI is a movie streaming service with a difference, offering a rolling selection of 30 hand-picked titles per month across independent, arthouse and world cinema.
Please Note: To avail of the free trial you need to enter your credit card details, but you will not be charged for 90 days. You can cancel at any time before or after the 90 days.
The Loopline Collection Volume 2
The Loopline Collection Volume 2 is a new film collection, free to view worldwide on the IFI Player. The collection includes the highly acclaimed four-part documentary series
Hidden Treasures
, focusing on Irish heritage and folklife, a a six-part TG4 series on Republic Women,
Mná an IRA
, and a collection of interviews with seminal Irish and international documentary filmmakers,
Where Art Thou?
Watch here
Exhibition on Screen Documentaries
Exhibition on Screen's art documentaries are always a hit at Pavilion Theatre, and you can now buy or stream lots of fantastic documentaries from their collection including Vincent Van Gogh, Leonardo, The Impressionists, Young Picasso and more.

Martin Hayes - Online Lessons
Celebrated fiddle player Martin Hayes will be releasing a series of online lessons every two weeks.
Tune in to his YouTube channel
where you can learn a new tune by playing along.
dlr Summer Stars
Summer may be over but it's not too late for you to register and take part in the Summer Stars 2020 reading challenge! dlr Libraries have decided to push the end date out to 30 September so there's lots more time for you to get reading and return your reading card to win some great prizes.
Find our more here.
dlr Library Online Book Club
Do you like reading and discussing books but prefer to stay at home at this time? Join dlr libraries staff and book club facilitator Mary Burnham, on the last Wednesday of each month at 7.30pm for a live discussion. Contact libraryculture@dlrcoco.ie for more information.
Upcoming titles:
Eight Months on Ghazzah Street, by Hilary Mantel: Wed 30 Sep, 7.30pm
The Cow Book by John Connell: Wed 28 Oct, 7.30pm
This Boy's Life, by Tobias Wolff: Wed 25 Nov, 7.30pm
Taking Charge of your Performance Career (Music Network)
Music Netowrk's series of professional development courses are now available to
watch back on their YouTube channel.
Aimed at helping musicians develop important skills necessary to respond to the music industry's shifting demands the courses are delivered by industry experts.