Cultural Activities from the comfort of your own home
31 May 2021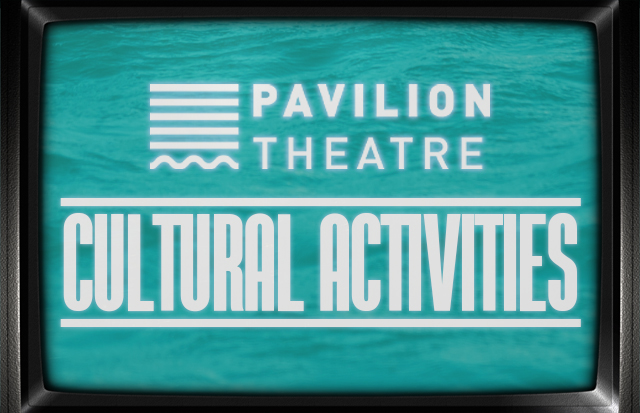 Pavilion Theatre remains closed, so while we can't keep you entertained in our usual way, we've been scouring the internet for the best cultural activities you can access from the comfort of your own home.
There are free theatre, opera and film events, online classes and activities for little ones! Hopefully this will help to stave off cabin fever while we all do our bit to stay indoors and flatten the curve.
We'll be keeping this blog updated every week so be sure to save this link or check our website homepage for updates.
In the meantime stay safe and well!

Panti Bliss: High Heels in Low Places
In this hilarious and poignant show, Panti traces her journey from small-town boy kicking against traditions; to towering plastique woman in false lashes making history, exposing the stories behind the make-up to reveal the National Treasure she is today.
Find out more and book your tickets here.
The world-famous performing troupe are releasing excepts from their best-loved productions as 60-minute premieres on their
YouTube channel
.

To The Lighthouse by Virginia Woolf
In a major new adaptation, this masterpiece of modernism is brought vividly to dramatic life by Ireland's foremost playwright
Marina Carr
and directed by
Annabelle Comyn.
The world premiere of this stage production will be broadcast online for a limited time, to audiences around the world from Fri 25 - Sun 27 Jun.
Find out more and book your tickets here.
The Metropolitan Opera: Nightly Opera Stream & On Demand
Every night, The Metropolitan Opera will release live recordings from their performance archives. The operas go live each night at 12.30am on the
Met's website
and are available to watch for 23 hours.
Coming up next:
Donizetti's La Fille du Régiment: Fri 4 Jun
The Gershwins' Porgy and Bess: Sat 5 Jun
Verdi's Macbeth: Sun 6 Jun
Philip Glass's Akhnaten: Mon 7 Jun
National Theatre at Home
The National THeatre are back online with a selection of unmissable theatre from their archives incuding
Amadeus, The Cherry Orchard, Angels in America, Cat on a Hot Tin Roof, Coriolanus, Othello
and more. Their 'at home' content can be accessed through a subscribtion or a pay on demand option.
Find out more here.
Irish National Opera Online
Irish National Opera have made their lockdown series
Seraglio
as well as
a selection of their recorded performances and broadcastas available to watch for free online, including
Orfeo Ed Euridice, Madama Butterfly, Acis & Galatea
and
The Barber of Seville.
Click here to find out more.
Druid Theatre
Druid Theatre has made recordings of five productions available to watch online for free.

RTÉ National Symphony Orchestra Live
Coming up next:
Wigmore Hall Online
Coming up next:
Elias String Quartet & Daniel Tong piano - Dvorák, Ivan Moseley & Purcell:
Thu 3 Jun, 7.30pm
Britten Oboe Quartet - Françaix, Mark Simpson, Mozart & Thea Musgrave:
Fri 4 Jun. 7.30pm
At Home with the Royal Scottish National Orchestra
Over the coming months the RSNO will broadcast ten glorious concerts, filmed live in the RSNO's studio. These ten performances are a reimagining of their 2020:21 Season featuring many of the guest artists and music originally programmed, alongside some surprises!
Browse through their programme or book your tickets here.
From Europe with Love
Galway Music Residency is back with their ambitious monthly lunchtime series exploring string quartet repertoire from all 27 EU member countries. Performed live, these performances will be streamed for free on their
YouTube channel.
Coming up next:
Luminosa Music – Arcadia
The Luminosa String Orchestra will perform three concerts exploring the darkness and finding the light. The first concert, live from Galway Cathedral will feature music from Mozart, Briggen, Janáček and Larchet.
Find out more and book your tickets here.
Coming up next:
Recorded during Kilkenny Arts Festival last summer, enjoy musical snapshots from the Irish Chamber Orchestra's performance of Vivald's Four Seasons.
Each season features 3 short movements, prefaced by a sonnet.

Me, Mollser (Abbey Theatre)
This specially filmed version of
Me, Mollser
puts the character of Mollser from Sean O'Casey's
The Plough and the Stars
, centre stage. This compelling, funny and poignant performance is designed specifically for schools with access to an English, Irish or ISL version, as well as learning resources and lesson plans. The performance is free online until 30 June, but registration is required.
Find out more here.
Draw with Don!
Beloved artist Don Conroy, best-known for his long-time stint on RTÉ's The Den has officially launched his own YouTube channel! Over the coming weeks he will provide free drawing tutorials for both children and adults so
tune in here and get creative!
Myths and Adventures from Ancient Greece
In a four episode series, tales from ancient Greece are brought to life in a fun way for kids to engage with the Greek myths. Suitable for ages 3-8yrs, the short performances are
available to watch on YouTube.
Shh! We Have A Plan - An Opera!
This puppetry adaptation of Chris Haughton's much loved award-winning book introduce opera to young audiences.
Watch Now
Play & Create with Tall Stories
Tall Stories have put together lots of
Play & Create resources
on their website with loads to keep you busy at home including colouring sheets, arts & crafts, baking recipes, games and fun worksheets for The Gruffalo, Room on the Broom, The Snail and the Whale and more!
Check it out here.
In their
At Home section
, there are links to video content, story-time readings and an informative and engaging digital book for children explaining all about the virus and the measures taken to control it, illustrated by Axel Scheffler.
Check out the Nosy Crow website to enjoy the book.

IFI@Home
The Loopline Collection Volume 2
The Loopline Collection Volume 2 is a new film collection, free to view worldwide on the IFI Player. The collection includes the highly acclaimed four-part documentary series
Hidden Treasures
, focusing on Irish heritage and folklife, a a six-part TG4 series on Republic Women,
Mná an IRA
, and a collection of interviews with seminal Irish and international documentary filmmakers,
Where Art Thou?
Watch here
Exhibition on Screen Documentaries
Exhibition on Screen's art documentaries are always a hit at Pavilion Theatre, and you can now buy or stream lots of fantastic documentaries from their collection including Vincent Van Gogh, Leonardo, The Impressionists, Young Picasso and more.

​Martin Hayes - Online Lessons
Celebrated fiddle player Martin Hayes will be releasing a series of online lessons every two weeks.
Tune in to his YouTube channel
where you can learn a new tune by playing along.
Taking Charge of your Performance Career (Music Network)
Music Network's series of professional development courses are now available to
watch back on their YouTube channel.
Aimed at helping musicians develop important skills necessary to respond to the music industry's shifting demands the courses are delivered by industry experts.