Cultural Activities from the comfort of your own home
28 May 2020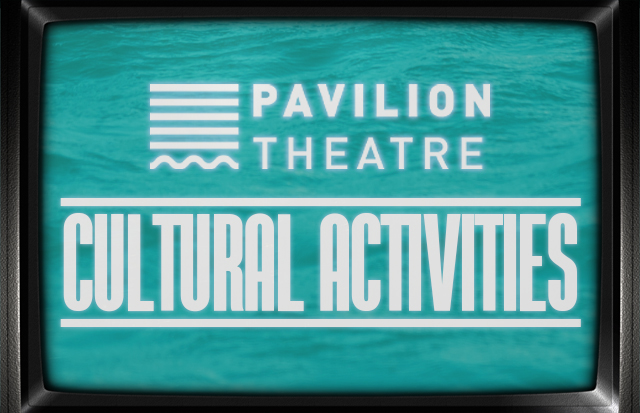 Updated Thu 28 May 2020:
Pavilion Theatre remains closed, so while we can't keep you entertained in our usual way we've been scouring the internet for the best cultural activities you can access from the comfort of your own home.
There are free theatre, opera and film events, online classes and even your chance to write a tiny play! Hopefully this will help to stave off cabin fever while we all do our bit to stay indoors and flatten the curve.
We'll be keeping this blog updated every week so be sure to save this link or check our website homepage for updates.
In the meantime stay safe and well!

Bealtaine At Home
Bealtaine Festival are bringing you a taste of the festival online, for the entire month of May! From the anarchic video postcards of The Windy Lady each Wednesday, to practical workshops and interviews with authors, there'll be something to brighten your day and lift your heart this Bealtaine.
View the full line-up here.
Coming up this week:
Royal Albert Home
Comin up this week:
Imogen Heap: Fri 29 May, 7.30pm
Classical for Kids – Enchanting Cello: Sat 30 May, 2pm
Kaiser Chiefs: Sat 30 May, 8pm
San Francisco Ballet are digging through their archives to showcase some of their favourite pieces from recent years right in your home. They'll release a differnt piece each week -
find out more here.
Coming up this week:
Bound To
:
Watch Now
(available until Fri 29 May)
Snowblind: Fri 29 May
New York City Ballet
NYCB are bringing their programme online with a full slate of performances, online movement classes, and more.
Find out more here.
Coming up this week:
21st Century Choreographers: Fri 29 May
Bloomsday 2020
Bloomsday will be going digital this year, offering a programme of readings, theatre, music, lectures, children's activity books, maps, recipes and film. Events will be announced over the coming weeks.
Find out more here.
Sydney Opera House Digital Season
The Sydney Opera House have taken a deep dive into their archives and are releasing a weekly digital programme of unmissable performances in music, dance, talks and family events.
Keep an eye on what's available here.

Waiting for Godot by Samuel Beckett
Gare St Lazare's 2013 production of Beckett's play
Waiting for Godot
is now available to view online for a limited period for free. Please consider making a donation to Gare St Lazare if you are in a position to do so.
Find more info and watch here.
Irish National Opera
Irish National Opera have made a selection of their recorded performances available to watch for free online, including
Orfeo Ed Euridice, La Cenerentola, Madama Butterfly, Acis & Galatea
and
The Barber of Seville.
Click here to watch them now.
Friday Opera Sessions
Irish National Opera invites you to join members of its wider operatic family for a short and entertaining performance of some of opera's best-known arias. Featuring twenty five Irish singers, coming to you from their own homes, this is a recital series like no other.
Tune in here
every Friday at 5pm for the next five weeks.
Coming up this week:
Episode 1 – Fri 29 May, 5pm
Featuring Rory Dunne, Carolyn Dobbin, Gavan Ring, Aoife Miskelly and Naomi Louisa O'Connell accompanied on piano by Aoife O'Sullivan and Fergus Sheil.
National Theatre At Home
Coming up this week:
This House:
Watch Now
(available until Thu 4 Jun)
Royal Opera House
Coming up this week:
Anastasia:
Watch Now
(available until Thu 28 May)
Cendrillon
:
Watch Now
(available until Thu 4 Jun)
The Shows Must Go On!
Musicals legend Andrew Lloyd Webber is serving up a free stream of one of his productions every week! They will become available every Friday at 7pm for 48 hours. You can watch them on the YouTube channel The Shows Must Go On.
Comng up this week:
The Metropolitan Opera: Nightly Opera Stream
Every night this week, The Metropolitan Opera will release live recordings from their performance archives. The operas go live each night on the
Met's website
and are available to watch for 23 hours.
Coming up this week:
Bellini's La Sonnambula: Fri 29 May
Donizetti's L'Elisir d'Amore: Sat 30 May
Strauss's Salome: Sun 31 May
Howie the Rookie by Mark O'Rowe
Glass Mask Theatre will stage a live production of Mark O'Rowe's seminal play
Howie the Rookie
online at The Lock Inn. Starring two of Ireland's most exciting young actors, Rex Ryan and Stephen Jones, the pair will host live Q&As to conclude each performance.
Get your tickets here.
Druid Theatre has made recordings of three productions available to watch online for free.
The Playboy of the Western World
by JM Synge:
Watch Now
The Tailor of Inverness
The Tailor of Inverness
has taken its place as one of the great Scottish theatre productions, generating an overwhelmingly powerful response from audiences everywhere including Pavilion Theatre. You can now
rent and watch Dogstar Theatre's production online.
The Matchmaker by John B. Keane
City Theatre Dublin's production of John B. Keane's
The Matchmaker
is now available to
watch on the Civic Theatre website
. Recorded live in 2001 at the Gaiety Theatre, this production stars Anna Manahan and Des Keogh.

Improvised Music Company
Coming up this week:
Harpist Úna Monaghan: Fri 29 May
The Butterfly Sessions
Music Network presents a new 10-week series of newly commissioned pieces of music to be premiered each week - broadcast on Wednesdays and Fridays at 7.30pm.
Performances will be hosted on
Music Network's YouTube channel
, where you can also listen back to previous performances including guitarist & songwriter John Doyle, jazz pianist Carole Nelson, composer Peadar Ó Riada, guitarist Julien Colarossi, song-writer Ger Wolfe and harpist Laoise Kelly.
NCH Livestream Series
The National Concert Hall will present four concerts, streamed live from the NCH stage and available to view worldwide on YouTube, Facebook and rte.ie.
Find out more here.
Fri 29 May: Irish mezzo-soprano and star of the international opera stage Tara Erraught and pianist Dearbhla Collins
Fri 5 Jun: Bell X1's front man Paul Noonan
Fri 12 Jun: Acclaimed Irish folk singer/songwriter Lisa O'Neill
Fri 19 Jun: Renowned Irish pianist Barry Douglas
NY Phil Plays On
While their doors are closed, the New York Philharmonic are releasing a collection of free digital content to classical music fans worldwide, including concert and musician videos, radio broadcasts and Young People's Concerts.
Find out more here.
Coming up this week:
The Ruby Sessions at Home
Every Tuesday at 9pm, the Ruby Sessions will host two special guest performances, raising money for Dublin Simon Community for the homeless. ⁠So far there've been performances from Lisa Hannigan & Saint Sister, JC Stewart & Gavin James, Wallis Bird & Villagers, Rodrigo y Gabriela & Theo Katzman, Soda Blonde & LYRA: and more - all of which you can
watch back on their YouTube channel.
Folk on Foot Festival
Lankum: Tiny Desk Concert
Lankum's Tiny Desk Concert with NPR, recorded in March, is now
available to watch online
. The award-winning Irish quartet perform three songs from its latest album, The Livelong Day.
Other Voices' series
Courage
can be watched back on
RTÉ Player
including Ye Vagabonds, Steve Cooney & Iarla Ó'Lionáird, Sorcha Richardson, Colm Mac Con Iomaire, Rhiannon Giddens, Glen Hansard and Denise Chaila.

Project Puppet: Online Workshop
As part of Cruinniú na nÓg 2020, we're excited to host this free online workshop for children, in which Artists Maisie Lee and Fionnuala Gygax will guide children through the process of storytelling and puppet making. Throughout the process you'll get to make something really special for someone you're missing at this time and learn how to make your very own puppet show video!
Find out more here.
dlr Libraries Summer Art Competiton
Children from Dún Laoghaire-Rathdown are asked to create a piece of art inspired by the title: 'Summertime is for…'
Find more info here.
Ceol Connected presents The Far Field Sessions
Over the months of May/June, join Ceol Connected's Thomas Johnston (musician), Emma Fisher (puppeteer), and Thomas Baker (puppeteer) as they present a series of music and puppetry sessions for children ages 3+ and their families. Based on their show
The Far Field
, the sessions will draw on themes of fairies, folklore, and farming! Tune in every Wed-Fri at 2pm on
Tradoodle TV.
Coming up this week:
dlr Libraries Storytime
Families can now tune in to dlr Libraries Storytime online – at 10.30am, Monday to Friday on their
Facebook page.
David Walliams' The Midnight Gang
Direct from the West End, the musical adaptation of David Walliams' children's book
The Midnight Gang
is available to watch for free until Fri 29 May.
Watch Now
Theatre Lovett's The Girl Who Forgot to Sing Badly
Coming to you from the Sydney Opera House, as part of their digital season From Our House to Yours, families can now watch The Girl Who Forgot to Sing Badly for free online until July 2020.
Ingenious performer Louis Lovett leads the audience on an untamed adventure that crosses snowy lands and wild seas. Recommended for ages 6+.
Click here to watch now.
The Wolf & Peter
Fimled at the Sydney Opera House, CoisCéim's fun and richly theatrical production
The Wolf & Peter
is availble to watch for free online. This thrilling adventure with a contemporary twist - told through the eyes of the Wolf - explores themes of courage and imagination.
Click here to watch now.
Shorts for Wee Ones
access>CINEMA has partnered with Discovery Film Festival to present a series of delightful
short films for ages 3-8, along with resources
created by classroom teachers and educational professionals, making them perfect for home learning.
Available to watch now:
Adventures in Enchantasia: Podcast Play
Ofegus Theatre have adapted their play
Daylight Robbery
into a free podcast for all the family! An hour of fun and adventure to bring some magic to your day. Suitable for ages 4 to 10.
Find out more and listen here.
#ImagineNation
The
#ImagineNation Playbook
is overflowing with activities for primary school children in drawing, writing and mindfulness exercises from leading creatives including Oliver Jeffers, Chris Haughton, Sarah Crossan, Don Conroy, Niall Breslin, Niamh Sharkey and many more.
Play & Create with Tall Stories
Tall Stories have put together lots of
'Play & Create'
resources on their website with loads to keep you busy at home including colouring sheets, arts & crafts, baking recipes, games and fun worksheets for The Gruffalo, Room on the Broom, The Snail and the Whale and more!
Check it out here.
Elevenses with The World of David Walliams
Every day at 11am, David Walliams is releasing a reading from his
World's Worst Children
stories - so sit down, take a break, and enjoy 20ish minutes of pure fun!
Click here for today's reading...
New York Philharmonic: Sleepover at the Museum
Previously recorded at their 'Fun at the Phil' concert in March 2020, you can now watch this family-friendly concert featuring the New York Philharmonic performing the score for Karen Le Frak's children's book Sleepover at the Museum. This 30 minute piece includes narration and illustrations projected on to a giant screen.
Watch Now
Draw with Don!
Beloved artist Don Conroy, best-known for his long-time stint on RTE's The Den has officially launched his own YouTube channel! Over the coming weeks he will provide free drawing tutorials for both children and adults so
tune in here and get creative!
Cirque du Soleil
Enjoy a front-row seat to awe-inspiring moments of the larger-than-life Cirque du Soleil shows, view behind the scenes footage, take part in juggling and make-up tutorials and even a Cirque du Soleil workout!
Sadler's Wells Family Dance Workshops
Sadler's Wells is presenting free online activities for people to dance along to at home, with Family Dance Workshops specially created to connect with younger children aged 2-6yrs

MUBI
MUBI is a movie streaming service with a difference, offering a rolling selection of 30 hand-picked titles per month across independent, arthouse and world cinema.
Please Note: To avail of the free trial you need to enter your credit card details, but you will not be charged for 90 days. You can cancel at any time before or after the 90 days.
The Loopline Collection Volume 2
The Loopline Collection Volume 2 is a new film collection, free to view worldwide on the IFI Player. The collection includes the highly acclaimed four-part documentary series
Hidden Treasures
, focusing on Irish heritage and folklife, a a six-part TG4 series on Republic Women,
Mná an IRA
, and a collection of interviews with seminal Irish and international documentary filmmakers,
Where Art Thou?
Watch here
Starboard Home
As part of the 1916 commemorations in 2016, Dublin Port and the National Concert Hall invited Irish musicians including James Vincent McMorrow, John Sheahan, and Gemma Hayes to respond to Dublin, its port and the Liffey with a selection of music, song and spoken word. This film
Starboard Home
documents the project, capturing the often hidden mysteries, stories and histories of the city's port.
Watch now on RTE Player.
Exhibition on Screen Documentaries
Exhibition on Screen's art documentaries are always a hit at Pavilion Theatre, and you can now buy or stream lots of fantastic documentaries from their collection including Vincent Van Gogh, Leonardo, The Impressionists, Young Picasso and more.
David Hockney at the Royal Academy of Arts
:
Watch Now

Drawing Together with Darina Meagher
Every Tuesday at 7.30pm, join Artist Network dlr for a collaborative drawing session, facilitated by Darina Meagher. Hosted on Zoom these sessions are free and open to all – bringing together visual artists, writers, musicians, working together at the same time.
Martin Hayes - Online Lessons
Celebrated fiddle player Martin Hayes will be releasing a series of online lessons every two weeks.
Tune in to his YouTube channel
where you can learn a new tune by playing along.
dlr Library Book Drops
For those without access to online services and those cocooning at home, dlr Libraries are offering a selection of physical books, CDs or DVDs delivered safely to your door.
Find our more here
or reach them through the dlr Community Call Helpline, available seven days a week from 8am-8pm. Phone: 1800 804 535 or 271 3199 | Email: covidsupport@dlrcoco.ie
Jigsaw Planet
CoisCéim Dance
One of the best dance theatre companies working in Ireland, CoisCéim have already started
Digital Dance Classes
including
classes for people aged 50+
every Wednesday,
adult classes
and are currently developing classes for people in care settings and interactive dance workshops for children.