Documentary Day
30 August 2017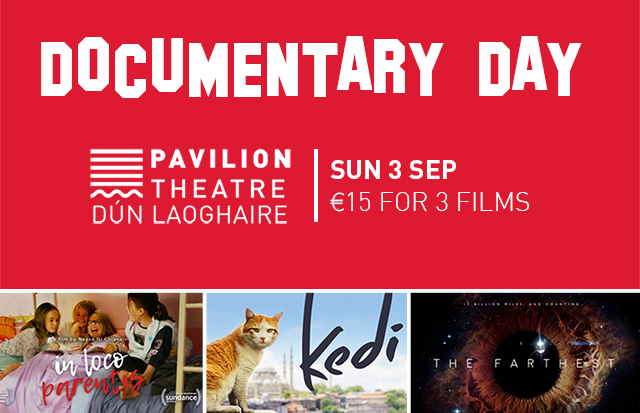 It's back-to-school season, the best time of year to learn something new – even for those of us who aren't packing our bags and ironing our uniforms! This Sunday, at Pavilion Theatre is screening three of the very best documentaries of the year, guaranteed to inform, enlighten and, yes, educate.
For the very special price of €15 you can take in all three, or avail of our €12 double bill rate. There's something for everyone, including a very unique primary school, some street cats with big personalities and a journey of discovery past the outer reaches of our solar system.
_________________________________________________
From Irish director Neasa Ní Chianán,
In Loco Parentis (AKA School Life)
is an unprecedented window into the day-to-day running of Headfort School in Kells, Co. Meath – the only primary-level boarding school in Ireland. Children from three to thirteen live under the care of veteran educators John and Amanda Leyden, who are now approaching retirement and must take a step back and discuss how they can preserve their all-inclusive teaching ethos for generations to come. This is must-see for anyone with an interest in education… or anyone who has been to primary school themselves!
Thousands of cats roam the streets of Istanbul; for the locals, these independent felines have been a part of city life for centuries.
Kedi
follows seven of these street cats – each with their own distinct personalities - as they go about their daily lives finding food, interacting with residents and muscling for space in Turkey's largest and furriest city. With a 98% Certified Fresh rating on Rotten Tomatoes, Kedi is sure to be a big hit with cat lovers of all stripes.
The Farthest
sees Emer Reynolds and her team reveal the fascinating and inspiring story behind NASA's Voyager mission in another home-grown Irish hit. Allowing the genius engineers, astronomers and physicists behind the 1977 launch and subsequent operation of the most ambitious space program ever to speak in their own words, this film is one that will leave you in awe of the things mankind can achieve. Get ahead of the curve and see The Farthest before it sweeps the table during the upcoming awards season!
_________________________________________________