Interview with Clare Monnelly (Charlie's a Clepto)
05 April 2019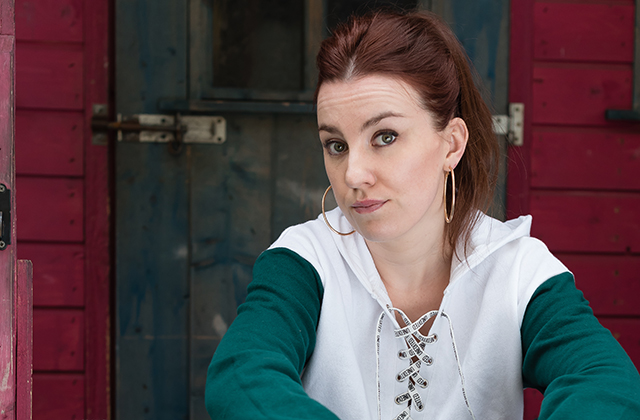 Ahead of its one-night stop at Pavilion Theatre, we caught up with the writer/performer behind
Charlie's a Clepto, Clare Monnelly
. Don't miss this razor-sharp, heartfelt drama when it comes to Dún Laoghaire on
Tue 9 Apr
.
_____________________________________
How would you describe Charlie's a Clepto in three words?

Fast-paced, hilarious & heart-wrenching (are hyphenates cheating?!) [Ed: Nope!]
What would you say are the main themes explored in the play?

Charlie's journey over the time we spend with her is one of self discovery - she is forced through circumstance to take a look at where she's at in her life and take some responsibility for herself and her actions.
I think loneliness is a central theme, although it takes the events of the play for her to even realise she is lonely.
You've had experience with screen roles (notably Moone Boy) as well as a lot of stage work. Are there differences in how you approach each medium?

Doing screen and stage work is like having two entirely separate careers - the work is completely different.
With stage we have the whole rehearsal process to investigate a text and characters and all the design elements and the dynamic between performers, for screen you need to be ready to go when you reach the set.
Screen work has so many moving parts, actors are just one part of a huge process and you have to be as on the ball as everybody else on set to make everything run smoothly. Preparation is key for both!
Given that Charlie's a Clepto is your first play as a playwright, how did you find the writing process?

I was incredibly lucky writing Charlie to have the support of Aaron Monaghan, my director and dramaturg who influenced the show massively.
He has an innate eye for narrative and structure, and was integral to the process. I learned so much from this process that I can hopefully put into practice on the next plays!
Are you working on anything new at the moment?

Yes! My second play Minefield is a three-hander about public shaming and will be produced in the Autumn.
We were also lucky enough recently to be awarded the Pavilion Theatre Patron Donation Award to do a development week in association with Livin' Dred on my third play The Shed which has a cast of 6 women. So it's all go!
____________________________
We hope to see you at this brilliant piece of Irish theatre. Tickets are available with free booking online or, alternatively, by calling our Box Office on (01) 231 2929.