Interview with Ross Dungan (Before Monsters Were Made)
17 February 2017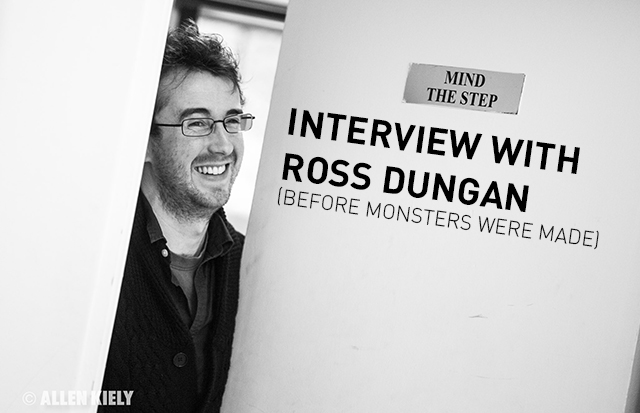 Produced by 15th Oak, Before Monsters Were Made is a simmering new drama set in late-1960s Mayo. It follows David Colgan as he and his family are set upon by rumors and suspicion after the untimely death of a local girl. What does David have to hide? Ross Dungan, the show's writer, has already won a Fringe First award and been nominated for Stuart Parker Trust and Irish Times Theatre awards for his other work. All in all, it's a pretty impressive CV for a man just a few years out of university.
Pavilion caught up with Ross to talk about Before Monsters Were Made and his writing process. The show is taking place on Tuesday 21 Feb at 8pm and stars John Cronin (The Foreigner), Orla Fitzgerald (The Wind That Shakes the Barley) and Manus Halligan (Rebellion).
____________________________________________________________________
Could you describe Before Monsters Were Made in three words?
Tense. Thrilling. Timely.
Was there much research involved in writing a play set in 1960s Mayo?
The research that went into 1960's Mayo was something that I didn't particularly want to cloud the plays story which is, at it's heart, the story of a family slowly disintegrating under a generational lie. Due dilligence has to be done in terms of the era but I wanted this play to feel like it could be set anywhere in Ireland, and in a way, anywhere in the world. But to feel like it could be set anywhere, it obviously needed to be set somewhere first.
What inspired you to write Before Monsters Were Made?
My inspiration to write the play came from a few articles centrering around the former assistant football coach at Penn State University Jerry Sandusky. A seemingly benevolent, altruistic figure at the heart of a community who was eventually found guilty of committing horrific crimes. The idea of a predator hiding in plain sight and potentially being a loved figure within a town became the initial inspiration for the play. Needless to say, it then, as most plays do, spiralled off into a great number of different directions.
You have a rich background in comedy, being part of the sketch comedy troupe A Betrayal of Penguins alongside Before Monsters Were Made producer Matt Smyth. Has your comedy writing informed your drama writing?
'Rich' is probably being incredibly kind there, but thank you. I think perhaps the experience of performing comedy can put you with an audience a little bit more when you're writing. Although the requirement to create laughter is supplanted by a desire to create communal moments of tension, it may give a better indication of where those beats can fall based on laughter patterns for an audience. But there's also a significant chance that my background might be the reason why I then repeatedly undercut any nice brewing tension with stupid jokes that few find humourous.
How have you found the experience of watching your words come to life on stage?
Strange. It's always quite strange but you progressively get a little more used to it.
Are you working on anything new at the moment?
I'm currently adapting a previous play, The Life and Sort of Death of Eric Argyle for the screen, and am also currently adapting Stephan Arabnell's book Morgenland for the screen as well. I'll hopefully be able to start work on a new play when those two projects are a little further down the road.
____________________________________________________________________
Before Monsters Were Made is coming to Pavilion for one night only - book your tickets now.
Tue 21 Feb | €18/16 | Free booking online: http://bit.ly/BeforeTix