Lasta: Meet Our Young Curators
03 June 2021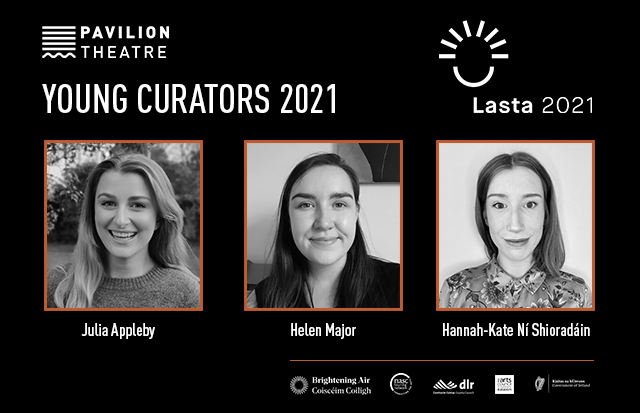 We're delighted to announce Pavilion Theatre's Young Curators for Lasta are Julia Appleby, Helen Major and Hannah-Kate Ní Shioradáin.
As part of a country wide initiative with the NASC Theatre Network, these young curators will work collaboratively to deliver an ambitious and exciting programme of events for young people as part of Brightening Air | Coiscéim Coiligh (11-20 Jun).
Click here to find out more about the festival.
As well as programming events especially for Pavilion Theatre, they will collaborate with young curators across the country to help programme events to be shared across the eight NASC Theatre Network venues.
JULIA APPLEBY
My name is Julia Appleby (she/her) and I am a twenty-four year old emerging director based in Dublin. I completed my degree in Drama and Theatre Studies at Trinity College Dublin in 2020.
I recently won the Professional Development Grant by the Arts Council to fund a mentorship program with director, Marc Atkinson Borrull. I wrote and directed The Interview as part of Resilience: An Online Virtual Festival, which went on to win Best Director, Best New Writing, Best Production, and Best Ensemble at the Irish Student Drama Awards 2020. This experience forced me to think outside the box, be flexible and adapt to current circumstances.
I directed my final year debut, The Strangest Kind of Romance by Tennessee Williams, in the Samuel Beckett Theatre, November 2019. My other directing credits include Konstantin (Players Theatre, 2020), Tribute (Players Theatre, 2019), Us (Players Theatre, 2018); I assistant directed 10 out of 12 (Beckett Theatre, 2018), Narcissus (Ruin Festival, Trinity, 2018) and Hearts of Stone (Players Theatre, 2017).
My directing style is deeply collaborative and I strive to intersect differing art forms such as music, film, dance, and art. I am influenced and moved by the work of director Ivo Van Hove. I am inspired by his grandiose, bold style that retells the classics and his use of multi-media. As a young director this kind of interdisciplinary theatre excites me and I dream of creating productions on the scale of Van Hove. I am drawn to a range of playwrights, including Paula Vogel, Lynn Nottage and Edward Albee as well as our own Marina Carr, Mark O'Rowe and Nancy Harris.
I was Productions Officer for the Irish Student Drama Awards 2021 and was Secretary on the Dublin University Players executive committee 2018/19. My responsibilities included obtaining performance rights; curating panels and speakers and working with artists to produce their shows. These experiences were invaluable in teaching me about the importance of organisation, attention to detail, collaboration and flexibility.
If I wasn't pursuing theatre, I would be running a cat sanctuary in Southern Italy and mastering the art of pasta and pizza making.
HELEN MAJOR
My name is Helen (pronouns she/her) and I am a 25-year-old writer from Shankill, Dublin. Currently, my artistic practice revolves around prose literature, but theatre has always been my first love.
Growing up, I was a devoted member of several youth drama groups, including Cabinteely Youth Theatre and UCD Dramsoc. I even wrote a play at the age of 8 or 9, called Little Old Ladies On The Loose, that was performed at our end-of-year showcase. That script has now been lost to time, a fact that I am, frankly, fine with.
Since then, I have obtained a BA in English and an MA in Creative Writing, both from UCD. During my undergraduate degree, I was lucky enough to spend a year studying abroad in Amsterdam, which was a formative experience for me. I also lived briefly in Edinburgh, where I spent a summer working in an Edinburgh Fringe venue.
Between my BA and MA, I worked for two and a half years as a Publishing Assistant for an educational publishing company. Though office life was not for me, I learned a lot from this role, and I'm very grateful to have had the experience.
These days, I am looking to strike out as a freelance creative professional. In addition to my writerly ambitions, I have a keen interest in live events, arts education, and art for younger audiences. I would love to see my career develop in this direction.
As an adult who benefited from a great arts education, I feel passionate about sharing the benefits of this type of learning. I know that my own life was shaped for the better by the books I read, and the drama games I played. The arts taught me how to work within a team, how to be resourceful, and how to sharpen my imagination.
Beyond the arts, my interests are broad; I love to cook, and run, and sew. Whenever I am asked for an interesting fact about myself, I talk about my rubber duck collection, amassed by accident. It started as a joke between friends, but after years of birthday gifts and spontaneous purchases, there are almost fifty of them, now, lined up on a shelf in my bedroom. It's actually quite creepy.
Coming to this festival as a Young Curator, my top priority has been programming events that offer something of value to audiences. Whether a person tunes in for every single event, or if they only make the effort to log on for one, I want them to feel like their time has been well spent.
HANNAH-KATE NÍ SHIORADÁIN
My name is HK Ní Shioradáin (pronouns: they/them, she/her) and I am a 22 year old from Ballinteer, Dublin. My main areas of artistic interest are music, film, and literature. I love curating events and giving other artists a stage to showcase their work.
I am currently finishing my BA in English Literature and Film Studies at Trinity College Dublin. I am particularly interested in Irish literature and I can tell you everything you would ever need to know about Brendan Behan.
I founded the Film Scene, a networking platform to promote student filmmakers in Dublin in 2018 to much success and I currently run its publication, The Film Zine, which was founded on foot of the pandemic.
When not curating, I work as a music director and composer, with a keen interest in film and theatre scoring. I teach musical theatre at the Independent Theatre Workshop and it is always my favourite few hours of the week.
I am a big fan of being on stage and I was an avid member of the TCD Jazz Society during my time in college and served as both treasurer and chairperson on the committee.
While the arts take up most of my time, I do love scouring the charity shops and revamping clothes with my sewing machine whenever I get the chance!