Monday Night Cinema Autumn/Winter 2017 Preview
28 July 2017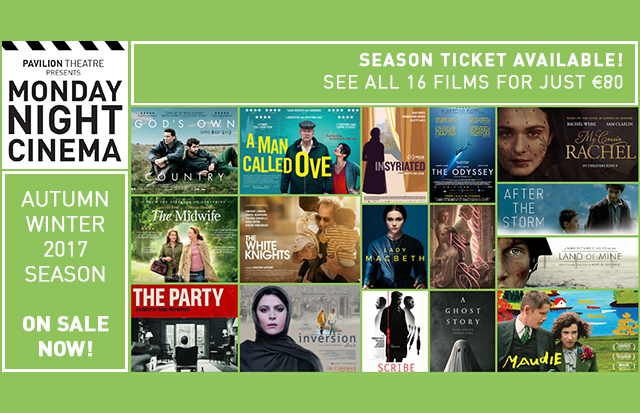 Monday Night Cinema
at Pavilion Theatre is now in its fifth year of bringing the latest critically acclaimed, thought-provoking films to Dún Laoghaire and we couldn't be more excited for our Autumn/Winter 2017 Season.
The best way to experience all 16 movies is with a
Season Ticket
. Valid for 5pm or 8pm, an
€80
Season Ticket guarantees you entry every Monday night to our state-of-the-art cinema, equipped with a
4k projector
and
7-metre screen
.
Here is just a small selection of the great films coming up this Autumn/Winter:
______________________________________
"Rachel Weisz is captivating" - ★★★★ The Guardian
Based on
Daphne Du Maurier's
1951 classic novel,
My Cousin Rachel
is a simmering tale of suspicion, attraction and infatuation set in 19th Century Cornwall. Already well-established as a stage play,
Roger Mitchell's
screen adaptation has been praised as "tense" (Village Voice), "dark and delicious" (LA Times) and "pure pleasure" (Variety).
"Even the tiniest gestures have years of family history buried within them" - ★★★★★ Telegraph
Renowned Japanese director Hirokazu Koreeda returns with this beautifully simple family drama about a formerly successful author who must face up to the realities and responsibilities of being a father as a typhoon draws ever-closer to his hometown. The Hollywood Reporter described it as "beautifully balanced between gentle comedy and the melancholy reality of how people really are".
"Suspenseful, dourly funny and at times piercingly emotional" - ★★★★★ New York Times
In this supernatural drama Casey Affleck (Manchester By the Sea) plays a white-sheeted ghost; a deceased musician left to wander the halls of his old house where his widow, Rooney Mara (Carol), tries to rebuild her life after his death. It's one of the most talked about films of the year, and with good reason – director David Lowery's meditative, poetic style is truly captivating.
"A brilliant, restrained biopic" - ★★★★★ – Boston Globe
Following its triumphant premiere at the 2017 Audi Dublin International Film Festival, this Irish-Canadian co-production from director Aisling Walsh recounts the fascinating life of Maude Lewis (Sally Hawkins) – a disabled folk artist who gained fame in the 1960s for painting her husband's (Ethan Hawke) tiny house with spectacular murals. Don't forget to pack a few tissues for this one!
______________________________________
Monday Night Cinema Season Tickets cost €80 and are
ON SALE NOW
from our website with no additional booking fee, or directly from our
box office (01 231 2929)
.