Monday Night Cinema Autumn/Winter 2018
17 July 2018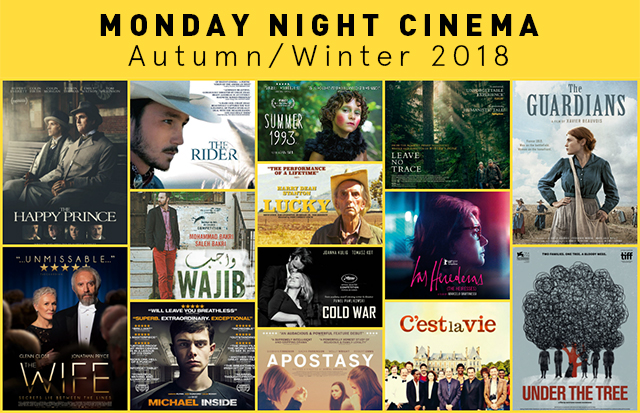 Monday Night Cinema at Pavilion Theatre is now in its sixth year of bringing the very best of Irish, American and world film to Dún Laoghaire and we couldn't be more excited for our Autumn/Winter 2018 Season.

Here is a full list of the great movies coming up this Autumn/Winter...
______________________________________
★★★★★ "Miraculous child performances" – The Guardian
In Carla Simón's touching autobiographical film, six-year-old Frida must go to live with her family in the countryside following the death of her mother.
Punctuated by moments of youthful exuberance and mature ruminations, this coming of age drama is an extraordinarily moving snapshot of being a child in an adult world, anchored by flawless performances by its two young stars.
★★★★★ "Every accolade this film has received is deserved" – RTÉ
From Dublin writer-director Frank Berry, Michael Inside tells the story of an impressionable eighteen-year-old whose life is changed dramatically when he is sentenced to three months in Mountjoy Prison for holding a bag of drugs for a friend's brother.
Inside, Michael is befriended by an older drug dealer (Moe Dunford), and is exposed to violence and intimidation in this genre-defying critical smash.
★★★★★ "The performances are extraordinary" – San Francisco Chronicle
This affecting human drama of love, loss, and resilience unfolds against the backdrop of World War I in rural France. With their men at war, women acquire newfound independence.
Emotions are stirred when the men return from the front on short leaves. Xavier Beauvois (Of Gods and Men) revels in the mysteries and beauties of the French countryside, here unravaged by war, with painterly images bathed in natural light.
★★★★ "Manic and earnest, the meticulously constructed plot whips by at a breakneck pace" – Seattle Times
A triumphant return for the Olivier Nakache/Éric Toledano directing team behind French-language smash The Intouchables, C'est la vie! is an ensemble comedy which revels in chaos.
Wedding planner/caterer Max is staging a wedding at a 17th-century chateau, during the course of which he must deal with a volatile assistant, rebellious waiters, a demanding groom, iffy electrical system, substitute DJ and much more besides.
★★★★★ "Exquisitely balances character study with shrewd commentary" – Variety
Paraguayan writer-director Marcelo Marinessi's drama follows Chela and Chiquita, a long term same-sex couple descended from wealthy Asunción families.
When financial troubles lead to Chiquita being imprisoned on fraud charges, Chela find herself back in her home town, providing a local taxi service to a group of elderly wealthy ladies and embarking on a journey of self-discovery.
★★★★ "A deeply felt, tremendously acted tribute to courage" – The Guardian
Centred on a captivating performance from writer, director and star Rupert Everett, The Happy Prince recounts the untold story of the last days in the tragic life of Irish playwright Oscar Wilde.
Having spent two years in prison, convicted of gross indecency due to his homosexuality, Wilde takes solace in his lover Bosie (Colin Morgan) and his best friend Reggie (Colin Firth).
★★★★ "Sigurdsson clearly has his finger on the pulse" – The Washington Post
Icelandic director Hafsteinn Gunnar Sigurdsson's tense thriller follows a man who is accused of adultery and forced to move in with his parents.
While he fights for custody of his four-year-old daughter, he is gradually sucked into a dispute between his parents and their neighbours over an old and beautiful tree.
What starts as a typical spat between suburban neighbours unexpectedly and violently reaches a boiling point, soon spiralling out of control.
★★★★★ "The intimacy and love between [the leads] is presented with real delicacy" – The Guardian
Leave No Trace tells the story of Will (Ben Foster) and his teenage daughter Tom (Thomasin Harcourt McKenzie) who have lived off the grid for years in the forests of Portland, Oregon.
When their idyllic life is shattered, both are put into social services but yearn to return to the wilderness. Debra Granik's moving film has earned a rare 100% Fresh rating on Rotten Tomatoes.
★★★★★ "Deftly walks the line between appropriately sombre and great, sophisticated fun" – TIME
The latest film from Oscar-winning Polish director Paweł Pawlikowski (Ida) is a passionate love story.
Set against the moody backdrop of the Cold War in the 1950s in Poland, Berlin, Yugoslavia and Paris, it follows two people of different backgrounds and temperaments who are fatefully mismatched.
Its boxy Academy ratio and black-and-white presentation lend Cold War a timeless quality befitting of its universal themes.
★★★★ "Authentic, sensitive and subtle but has a sledgehammer narrative punch" – The Guardian
This semi-autobiographical debut feature from British writer-director Daniel Kokotajlo takes an intimate look at a family of Jehovah's Witnesses in crisis.
For Alex's mother Ivana (Siobhan Finneran) and sister Alex (Molly Wright), her questions and transgressions in the eyes of the church leave them with an impossible choice between faith and family.
★★★★ "If only every actor we loved could leave us with a farewell film like this one" – TIME
This award-winning first feature from actor-turned-director John Carroll Lynch (Fargo, Zodiac) allows Harry Dean Stanton to shine as 90-year-old Lucky, an atheist seeking the meaning of his life.
Stanton's final on-screen performance is funny, touching and beguiling, and all the more poignant in the knowledge that he passed away just days before the film's US cinema release.
★★★★ "An excellent family drama that has far more to it than meets the eye" – The Digital Fix
A Palestinian father and his estranged son must travel to Israel to hand-deliver his daughter's wedding invitations to each guest, per tradition.
The modern city of Nazareth in the lead-up to Christmas is the unique setting for this rousing and often very funny family drama from Annemarie Jacir (When I Saw You).
★★★★★ "Reinvigorates tropes from the western genre" – The Washington Post
After suffering a near fatal head injury, a young cowboy in the American Midwest undertakes a search for new identity as he grapples with the choice between giving up on his way of life and putting his life at risk.
This contemporary western from director Chloé Zhao was inspired by and stars real-life cowboy Brady Jandreau alongside his family.
★★★★★ "Close gives arguably her best ever performance" – The Guardian
In this film based on Meg Wolitzer's novel, Joan (Glenn Close) has spent forty years sacrificing her own dreams and ignoring infidelity to fan the flames of her charismatic husband Joe (Jonathan Pryce) and his skyrocketing literary career.
On the eve of Joe's Nobel Prize for Literature, she makes a cataclysmic decision. The Wife is a celebration of womanhood, self-discovery and liberation.