Pavilion Theatre's Patron Donation Award 2019
17 January 2019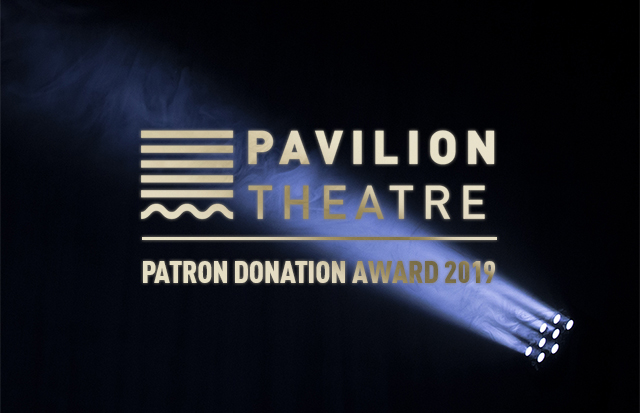 Pavilion Theatre is delighted to announce its Patron Donation Award 2019 for artists, companies and producers in theatre, music and dance.
Context
Since 2015 Pavilion Theatre has supported artists and companies across the performing arts in a variety of ways including mentorship programmes, short- term residencies in Pavilion Theatre's first floor Gallery Space, a wider range of co-commissions, co-productions and the Patron Donation Award for artists, companies and producers in theatre, music and dance.
Some of these artists include Replay Theatre Company, Sonya Kelly, Willfredd Theatre, Jacinta Sheerin, Anna Newell, Christian O'Reilly, Gillian Grattan, Janet Moran, Una McKevitt, Lords of Strut, Bombinate Theatre, Branar and Iseult Golden, to name a few.
The aims of this year's award are to support individual artists and companies to develop and complete projects which are original and ambitious and which, at the same time, demonstrate relevance to Pavilion Theatre's audiences and venue capacity (midscale, 324-seater theatre). This award is made possible by the generous private donations of Pavilion Theatre's loyal patrons.
Conditions of funding for Patron Donation Award 2019
For 2019 a sum of €20,000 has been allocated to the Awards. It is likely that 3-4 proposals will receive support. The maximum level of any single award is likely to be €7,500.
Artists, companies and producers will first apply through a form which is available
here
and below alongside criteria.
Previous successful applicants are eligible to apply.
Applications are open to anyone resident in both the Republic and Northern Ireland.
A maximum of two applications can be made by an artist/company.
Proposals will be assessed by an expert panel according to the criteria published below. The panel will make recommendations and their decision will be final; it will be made in a competitive context of limited resources. Pavilion Theatre will not be in a position to enter into correspondence with applicants or offer feedback at any stage of the process.
Conditions will apply to funding offers including a contractual engagement with Pavilion Theatre, one-to-one meeting and updates with Pavilion Theatre in support of the development of the project, appropriate acknowledgment of Pavilion Theatre's support and investment in any work supported, co-produced, co-commissioned or presented, and a short synopsis/report of work in progress supported by the award will be required.
Key dates
17 January 2019 Announcement of Open Call
14 February 2019 Closing dates for applications
21 February 2019 Selection Panel meets
26 February 2019 Applicants contacted
28 February 2019 Successful applications announced
Criteria
Applications will be assessed according to the following criteria:
Eligibility of Application – the application form is completed in appropriate detail and is submitted on time; that the proposal meets the aims of the Patron Donation Award including support of ambitious and original projects that can be brought to completion within 12-18 months and which are audience focused.
Quality and Nature of Proposal – the excellence and originality of the project or piece of work being proposed in terms of theme or idea and/or in terms of formal approach, and its congruence with the kind of work that might be presented in or promoted by Pavilion Theatre on its own or in partnership with other venues, festivals or funding bodies. Pavilion welcomes co-funding partners for projects.
Public Engagement – the quality and ambition of the project in its ability to connect to audiences.
Track Record of Artists Involved – the achievement to date of the individual maker or group of artists making the proposal and evidence of previous collaboration in the case of companies. Where applicants are considered to be "early-career", letters of support/references can be supplied.
Feasibility of the Proposal – demonstrable evidence of the following:
that an award, if made, will allow for the significant development/completion of the proposed project or piece of work
a credible project timeframe and budget
capacity to deliver the project and to communicate and dialogue with Pavilion Theatre or its representatives. It will be a condition of funding that the artists and/or company has a nominated producer in place
evidence (e.g., through letters of support) that any nominated collaborators or project partners including the producer are explicitly committed to the project
an outline of how, after the completion of the work, it might be brought to production or presentation stage