Q&A with Arthur Riordan (A Portrait of the Artist as a Young Man)
17 September 2018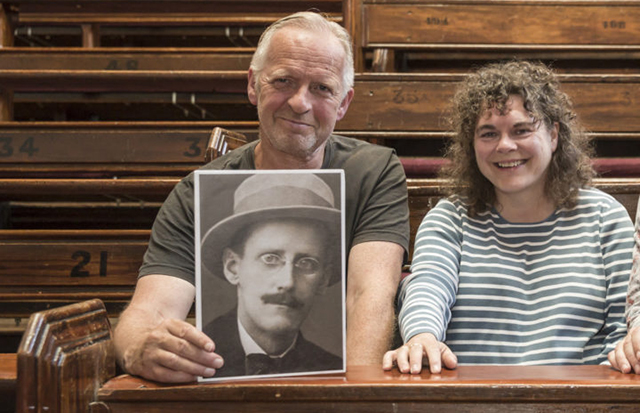 A seasoned theatre artist, Riordan is also an actor, one of the original founders of Rough Magic, and has even adapted Joyce before.
In the Q&A below he reveals why Portrait is a typical Irish story, his hopes for the production, and his gnawing fear that "cutting even one word of Joyce will offend the gods of modernist prose".
____________
A Portrait of the Artist as a Young Man is over 100 years old. Why adapt the story now?
Firstly, that 100 year landmark is quite important. In recent years, we've had plenty of occasion to revisit and re-interrogate the attitudes and events of early 20th-Century Ireland, and here is a novel published in 1916, presenting a very clear-eyed view of the various preoccupations of the preceding years, especially with regard to Irish nationalism and the Catholic Church.
Secondly, the 100 years isn't in the least important, because Portrait is just as vibrant and relevant now as it was then. I think it's one of those books that many people read in their teens, one which leaves a lifelong impression. That was certainly my experience, and part of the pleasure of working on this adaptation was, in a sense, reading over the shoulder of my teenage self.
Of course there's another reason for adapting the book now, and that's the fact that it recently entered the public domain. It seems there were quite a few of us impatiently waiting for that opportunity – keen observers will have noticed a number of Joyce adaptations lately.
How did you approach this adaption?
My first and last aim was to present the story in a way that's faithful and clear, and part of that process involves recognising Joyce's literary innovations and finding theatrical equivalents.
This is a seminal modernist work, and both Ronan (the director) and I were keen to avoid any hint of nostalgia or prettification.
By its very nature, any stage version of a novel is going to be just that – a version. So you need to make choices as to what version it's going to be, and what facets you want to highlight.
On the face of it, Portrait is a more conventional novel, and an easier, shorter read than Ulysses, but it's also densely layered, and radically innovative as far as narrative technique is concerned. It was this narrative element, and the slippery relationship between Joyce and his creation Stephen, that I felt an urge to explore and play about with.
Was it intimidating to adapt the work of such a famous author? Did you feel any obligation or reverence to Joyce when you took it on?
Inevitably you feel a certain weight of responsibility, but that's far outweighed by the opportunity to work with such great material.
Of course there were times when I'd think, I only need half of this sentence for my purposes, but will cutting even one word of Joyce offend the gods of modernist prose? To some extent though, this is true of any adaptation. You keep asking yourself, what liberties am I allowed to take? In the end you have to trust in your knowledge of the work and trust your instinct.
It helped though that I'd already taken the plunge last year, writing the libretto for Andrew Synnott's wonderful Dubliners opera. One sure way to get around any trepidation about adapting Joyce is to adapt Joyce for an opera!
Do you think Portrait is a very Irish story?
Very Irish and specifically very Dublin, but in the way of much great literature, Portrait achieves universality through being firmly rooted in the local.
But there's another reason Portrait feels like a quintessentially Irish novel today: the fact that it provided a virtual template for the scores of Irish coming-of-age novels that would follow!
What were your reasons for having multiple actors play Stephen and the narrator?
That was a very early decision, and there were several reasons, the first of which was purely practical: for most of the book, Stephen is quite taciturn, but his inner life is described in linguistic technicolour, so you really have to have that voice too.
Then I wanted to say something about the Joyce/Stephen duality, so I had the idea of a sort of relay, where at intervals, as Stephen grew older, the actor who has been playing the narrator would take over the role of Stephen, then a new narrator would appear, who would eventually in turn become Stephen, and so on. In this way I hoped to suggest a sort of symbiosis between Joyce the narrator and Stephen the protagonist.
Then Ronan rowed in with the notion that Portrait is a story about finding or creating an identity, and in the process discarding old ones – the notion that identity is fluid. Not only brilliant, but a perfect justification for using multiple actors!
You're also an actor. How does your acting experience influence your scripts?
Probably a certain ease with writing dialogue, and a decent instinct for what works or doesn't work theatrically. And an enormous respect for actors!
What are your hopes for the final production?
One hope would be to blow the dust off the book. It wasn't written as a period piece and shouldn't be thought of as such now.
It's an extraordinary work, both of fiction and of self-awareness; a bold artistic manifesto and a forensic exploration of youth.
That's what I'd like to see on the stage, and having seen A Midsummer Night's Dream in Kilkenny [Arts Festival], and knowing how hard and far this cast and creative team drive themselves, I have every confidence my hopes will be fulfilled!
____________