Top 10 Films in Our Spring Season
19 November 2015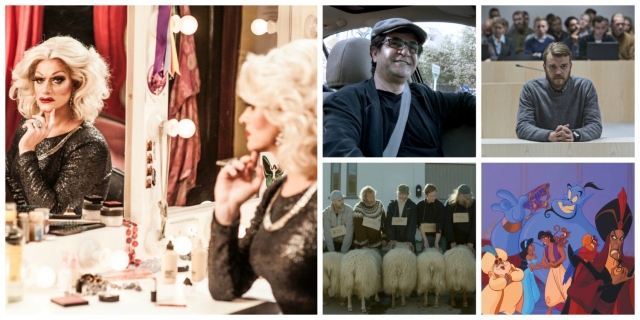 We are delighted to announce our Spring 2016 season of cinema which includes our Monday Night Cinema screenings and Special Screenings. After much debate, our team at Pavilion Theatre put together the top 10 films of next season. Fortunately, there is something for everyone - whether you're a lover of sheeps, Iranian taxis or 6ft 4in Irish drag queens, we have something for you. And remember we have a discounted Season Ticket available for all our Monday Night Screenings!
Jafar Panahi's Taxi offers another round of trenchant societal commentary from a director whose entire filmography stands as a daring act of dissent. This lauded slice-of-life movie stars exiled Iranian filmmaker Jafar Panahi as he poses as a taxi driver in Tehran, in this series of portraits of everyday characters hiring his driving services.

A film like Queen of Ireland is unlike any other film in recent Irish history. The effects of the Marriage Referendum on our society haven't yet fully been realised, but it's important that we acknowledge both its importance and its relevance to all corners of Irish life - be it young, old, gay, straight, rich, poor. It was a galvanising experience for us all; it lifted our spirits and made us proud as a nation. So to focus such a momentous event through the prism of a drag artist is no mean feat, but if anyone's able to do, it's Panti.

A highly entertaining entry in Disney's renaissance era, Aladdin is beautifully drawn, with near-classic songs and a cast of scene-stealing characters. Robin Williams's dizzying and hilarious voicing of the Genie is the main attraction of Aladdin, the third in the series of modern Disney animated movies that began with 1989's The Little Mermaid and heralded a new age for the genre.

Shaped by Todd Haynes' deft direction and powered by a strong cast led by Cate Blanchett and Rooney Mara, Carol lives up to its groundbreaking source material. Todd Haynes' commitment to outcasts, then and now, makes Carol a romantic spellbinder that cuts deep. It's one of the year's very best films. Blanchett and Mara should have Oscar calling.

Company commander Claus M. Pedersen (Pilou Asbæk) and his men are stationed in an Afghan province. Meanwhile back in Denmark Claus' wife Maria (Tuva Novotny) is trying to hold everyday life together with a husband at war and three children missing their father. During a routine mission, the soldiers are caught in heavy crossfire and in order to save his men, Claus makes a decision that has grave consequences for him - and his family back home.

Fueled by powerful acting and a taut, patiently constructed narrative, 99 Homes is a modern economic parable whose righteous fury is matched by its intelligence and compassion. Set amidst the backdrop of the 2008 housing market catastrophe, Dennis Nash, a hard-working and honest man, can't save his family home despite his best efforts.

The smallest and subtlest film in the main competition at Cannes this year, Mexican director Michel Franco's Chronic offers a measured portrait of a hospice nurse (played by Tim Roth) who tends to terminally ill patients, respectfully observing his difficult and emotionally draining job while bluntly asking the question: Who cares for the caregiver?

Grimur Hakonarson mines moments of wonderfully wry comedy in this tale of sheep and men. In a remote Icelandic farming valley, two brothers who haven't spoken in 40 years have to come together in order to save what's dearest to them - their sheep. e two estranged brothers must come together to save what's dearest to them: their sheep. Helmer-writer Grimur Hakonarson, an experienced documentarian, capitalizes on his extensive knowledge of Icelandic bachelor farmers and the unique landscapes of his homeland, while spicing the proceedings with some wonderfully wry, charmingly understated comic moments.

The fifty-seventh Irish documentary this year continues the rich vein of form: Older Than Ireland is an engaging watch throughout. The dawning realisation one might have during this thoroughly entertaining documentary is not how old these people are and still punching, but how young this country actually is.

This movie from Georgian writer-director Zara Urushadze had an Oscar nomination for best foreign film, losing out to Paweł Pawlikowski's Ida. It more than deserves its UK release now: a tremendous, old-fashioned anti-war film, by turns touching, moving and suspenseful. It's set in 1992, in the post-Soviet Caucasus, where Georgians are fighting a war with secessionist Abkhazians, backed by Russia. Ivo (Lembit Ulfsak) is an elderly ethnic Estonian who, with his friend Margus (Elmo Nüganen), is a tangerine farmer; they fear the fighting will destroy their entire crop.