5 reasons to see Us/Them
09 October 2019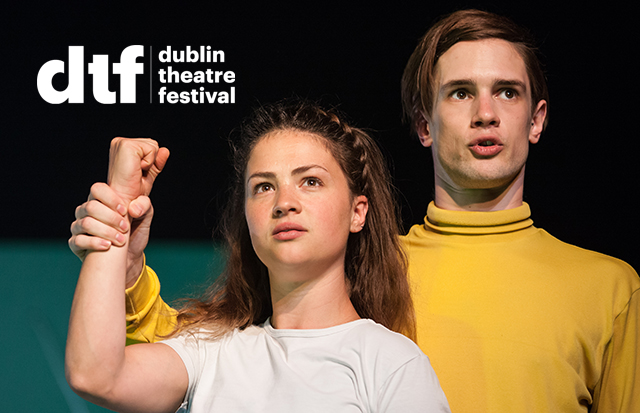 Dublin Theatre Festival 2019
has arrived, and we've rounded up five compelling reasons to see
Carly Wijs's
groundbreaking
Us/Them (Tue 8 – Sun 13 Oct)
, which runs for eight performances this week at Pavilion Theatre.
_____________________________
Us/Them is based on true events

In the town of Beslan on the border region between Russia and Chechnya, the first day of the school term in September 2004 was shattered when Islamic terrorists stormed School Number One and took over 1,000 people hostage including 777 children. They were held for three days without food or water and a botched rescue attempt by Russian forces resulted in 336 deaths. This is the real-life incident which inspired the creation of
Us/Them
.
In 2017 the European Court of Human Rights ruled that the Russian government had not taken sufficient steps to prevent the tragedy and used excessive force in bringing it to an end, awarding compensation to the victims. As of 2019, no official investigation into the incident has been conducted by Russia and the victims still have no definitive account of what happened.
Critics and audiences love Us/Them

Since its first performance in the Dutch language in 2014,
Us/Them
has been translated into two further languages (including English) and performed around the world. It has achieved the rare feat of selling out its entire run at both
Edinburgh Festival Fringe
and London's
National Theatre
.
Complementing its popularity with audiences has been a rapturous critical reception. Five-star reviews from
The Telegraph
,
The Guardian
and
The Stage
have described the play as "unforgettable", "remarkable" and "outstanding", while
The Times
called
Us/Them
"an innovative piece of theatrical storytelling" in its four-star review.
Us/Them was written by Carly Wijs

Carly Wijs
is an accomplished actor, writer and theatre-maker from Amsterdam. In her native Netherlands, she is best known for her recurring role in the hit TV series
Divorce
, although she has extensive experience on both stage and screen. As a writer, her debut novel
The Doubt Experiment
was nominated for a Bronze Owl – awarded for excellence in Flemish writing – and as a playwright she has found massive success with
Us/Them
.

Wijs was inspired to write the play after her son told her about a news report he had seen on TV dealing with a terror attack in Kenya. His aloof and casual description struck her as very different to how an adult might interpret events, and after viewing BBC's Children of Beslan documentary she realised she could retell this tragic story from a child's unique perspective.
Us/Them features stunning choreography and a unique set

Movement is as vital to
Us/Them
as speech, with actors
Gytha Parmentier
and
Roman Van Houtven
delivering intensely physical performances as two primary school-age children caught up in the chaos of a terror attack.
From bare beginnings, the pair enthusiastically conjure up their world using chalk on the walls and floor. The set requires more and more skill to navigate as strings appear from all directions, creating a web of obstacles representing the claustrophobic gymnasium of School Number One.
Us/Them is an award winning play

Us/Them
has been recognised as an outstanding piece of theatre both in Belgium and abroad. It was selected for Het Theater Festival, a showcase of the year's best Flemish performances.
At Edinburgh Festival Fringe, the play received no fewer than three awards, including for Production, Best Actress and a prestigious Scotsman Fringe First Award – given to the festival's finest examples of new writing.
_____________________________
We hope you'll join us for what will be one of the highlights of Dublin Theatre Festival.