Pavilion Recommends: The Best of Dún Laoghaire Folk Festival
17 August 2022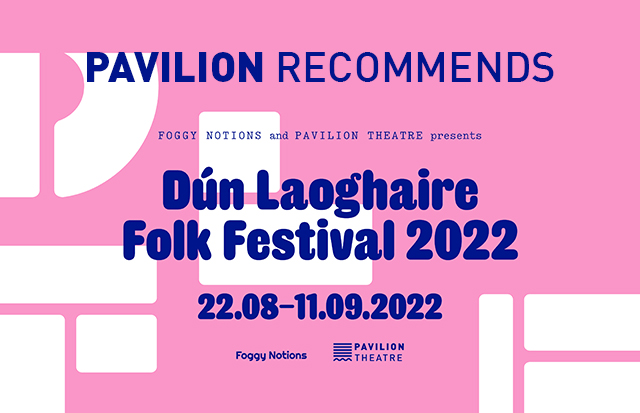 The first full-capacity edition of Dún Laoghaire Folk Festival is packed to the gills with incredible music, with 20 events across three weeks. We've chosen 7 artists we can highly recommend you go and see, highlighting one key track from each. Read on, or simply browse the full line-up here and listen to the official Spotify playlist for the fesitval below:
Without any further ado, here are our recommendations:
Delicate and ephemeral, with subtle piano, guitar and flute accompaniment, Crosshairs is a transportive listen from Brooklyn, New York's Cassandra Jenkins reminiscent of Neil Young's 1970s golden period.
Hailing from counties Carlow and Donegal, university pals Laura Quirke and Claire Kinsella make idiosyncratic acoustic folk haunted by, you guessed, it the cello. House of Cards uses drones, swooping strings and powerful vocals to conjure up the atmosphere of the Brothers Grimm's original, dark fariytales.
This is one for lovers of the Irish music tradition in its purest form. Here, accomplished piper Mulcahy takes us on a thrilling journey through some timeless melodies which require no embellishment. Her concert with Uileann Pipes prodigy Sorcha Ní Scolaí and trailblazing veteran Máire Ní Ghráda is sure to be a real treat.
Lucie Azcogna (from France) and Consuelo Nerea (from Italy) bring a fascinating new perspective to Irish traditional tunes, demonstrated beautifully with this track which one could imaging reaching the rafters of a central European cathedral in the 17th Century.
Bringing an infectious pop sensibility to the Folk Festival, Galway native Niamh Regan's stunning Late Nights draws favourable comparisons with a certain US artist who has blended those two genres to world-beating success: Sufjan Stephens.
If the title of this track calls to mind Laurie Anderson's signature track, that's no mistake on Maija Sofia's part. The singer-songwriter's new single gives off the same mechanical melancholy, feeling like the work of a rouge AI turning its hand to intelligent lo-fi pop. Sofia is joined on 10 September by two stunning American musicians Lael Neale and Jana Horn, as part of a triple bill.
Boasting an undeniable groove and crystilline lead vocals, Sandia is the perfect introduction to Asmâa Hamzaoui and Bnat Timbouktou's boundary-smashing take on the Gnawa musical tradition of Morocco.
See you at the festival!