Pavilion Theatre Spring 2017 Season Launch
12 December 2016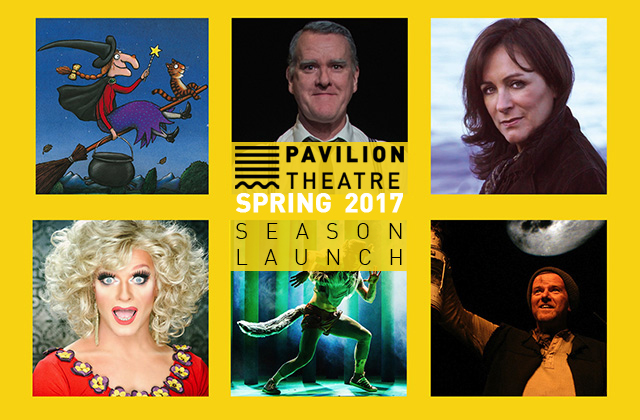 We're delighted to announce the launch of our brand new season! There are dozens of incredible shows lined up this spring across all genres of the performing arts. With everything from drama and comedy to music and dance, you're bound to find something to pique your interest in our brochure.
The full programme is available right now as a digital document and tickets for all of our events are already on sale - so if you see something you know you'll love, book for free online or call our box office (01-2312929) before they're all gone.
Here is just a small selection of the things coming up this season at Pavilion:

This Lime Tree Bower [DRAMA]
After huge success with last year's The Weir, Conor McPherson is bringing This Lime Tree Bower to Pavilion. It's a funny, affecting play about three young men whose lives are inextricably linked
Tue 7 & Wed 8 Mar, 8pm | €20/18 (Early Bird first night only)

The Puccini Scandal [MUSIC]
Live opera and drama combine in this wonderful show with Niall Morris (Celtic Tenors) about the life of the tortured composer
Fri 6 Jan, 8pm | €29 (Early Bird available)

Jason Byrne [COMEDY]
The Times' "outright king of live comedy" returns to Pavilion's stage with his new show Is Propped Up
Thu 9 Feb, 8pm | €23

The Dead [DRAMA]
Fresh from a sold-out run in the City Centre, this interpretation of Joyce's short story is a heady mix of live strings, singing and drama
Wed 15 & Thu 16 Feb, 8pm | €20/18

Foil, Arms and Hog [COMEDY]
Ireland's premiere sketch comedy troupe will be bringing their offbeat humour to Pavilion
Thu 9 Mar, 8pm | €19/17

Dillie Keane [CABARET]
Back thanks to popular demand, Fascinating Aïda's Dillie will be sure to delight audiences with some of the finest cabaret ever to grace the stage
Wed 1 & Thu 2 Mar, 8pm | €30/27 or €25 groups of 10+ (first night only)

The Quiet Land [DRAMA]
Des Keogh and Denny Power star as two older farmers who often reminisce together, but must now test the strength of their relationship. The Scotsman calls it a "perfectly-pitched pair of performances"
Tue 11 & Wed 12 Apr, 8pm | €18/15 (Early Bird first night only)

The Wolf & Peter [DANCE]
Perfect for the whole family, CoisCéim's stunning dance extravaganza is "reassuringly traditional and startlingly modern.... funny, imaginative, and, finally, very moving" (Irish Times)
Fri 14 Apr, 4pm & Sat 15 Apr, 2pm | €12 adult, €8 child or €32 Family

High Heels in Low Places (Panti Bliss) [SPOKEN WORD]
Surely one of our greatest exports, experience drag queen extraordinarie Panti's hilarious, heart-warming show for yourself
Sat 28 Jan, 8pm | €20

LEDWIDGE [DRAMA]
The incredible story of the Francis Ledwidge, Ireland's greatest war poet, and how his personal conflicts and the ongoing horror of the First World War influenced his art
Sat 8 Apr, 8pm | €18/16 (Early Bird available)

Neil Delamere - "Handstand" [COMEDY]
The Irish Times has said that "no TV camera could accurately measure the lightning speed of Delamere's wit". You've seen him on RTÉ and BBC, but you haven't had the full Neil experience until you've seen him live!
Thu 27 Apr, 8pm | €24/22
Monday Night Cinema [FILM]
We've got sixteen incredible, critically-acclaimed films lined up this season – check out our season preview blog post here
Every Monday, 5pm & 8pm | €7.50/6.50 (Season Ticket available)

The Humours of Bandon [DRAMA]
From Fishamble, this is a touching, hilarious coming-of-age story about 16-year-old Annie, who is trying to win a national Irish Dancing championship. Directed by Stephanie Preissner (Can't Cope, Won't Cope)
Tue 7 & Wed 8 Feb, 8pm | €16/14

Declan O'Rourke [MUSIC]
Dublin's best singer-songwriter is coming to Pavilion, touring his new album In Full Colour. Don't miss his intimate music in an equally intimate venue
Thu 16 Mar, 8pm | €23

Johnny I Hardly Knew Ye [DRAMA]
Starring Garrett Keogh (The Weir) and Michael Hayes (Vodafone's "pig" ad), this play follows the disruption caused at a small Midlands newspaper in 1916 when new owners bring in big changes
Thu 30 & Fri 31 Mar, 8pm | €18/16 (Early Bird available first night only)
Once again, the Pavilion Spring 2017 Brochure is available here and tickets for all events are available now. A very happy Christmas from Pavilion, and we look forward to seeing you at one of our fantastic events in the New Year!