Monday Night Cinema Autumn/Winter 2019
17 July 2019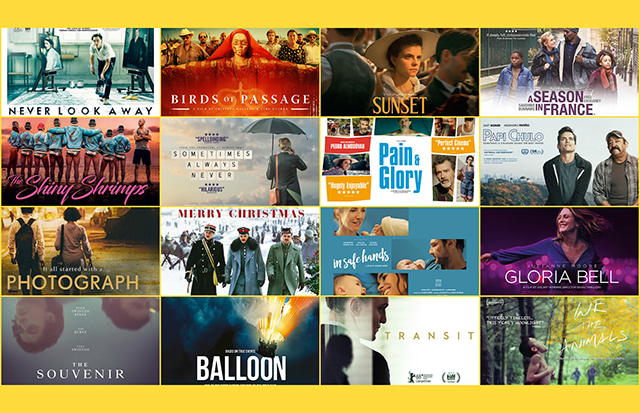 Our Autumn/Winter 2019 season of Monday Night Cinema is a cracker, with big stars like Julianne Moore and Bill Nighy, a new comedy directed by Dublin's John Butler and films from France, Germany, Spain, Hungary and Colombia! There's even a Christmas treat in the mix.
Here's a look at what's coming...
___________________________________
★★★★ The Irish Times ★★★★ The Guardian
Julianne Moore stars in Oscar-winning director Sebastian Lelio's faithful, elevated remake of his 2013 critical hit Gloria about finding love as an older woman.
★★★★★ The Irish Times ★★★★ The Guardian
Visually stunning and based on actual events, this breathtaking drama recounts how one indigenous family became involved in the Colombian drug trade.
A warm, human drama about the adoption system in France and the people it touches.
★★★★★ The Washington Post ★★★★ The Guardian
Based on Justin Torres's semi-autobiographical novel, this coming-of-age drama follows the youngest of three brothers as he awakens to a world beyond that of his volatile family.
★★★★★ The AV Club ★★★★ Slant
Winner of Best Film at Virgin Media Dublin International Film Festival 2019, this gripping thriller is a bold contemporary re-imagining of Anna Seghers' WWII novel about a man escaping fascism under a false identity.
★★★★ The Guardian
After fleeting their war-torn homeland, a Central African family struggles to make ends meet in Paris as they seek political asylum. A tender yet stark portrait of how bureaucracy and humanity can collide.
★★★★ The AV Club ★★★★ RogerEbert.com
Indian director Ritesh Batra (The Lunchbox) returns to Mumbai for this bittersweet romance between a struggling street photographer and a sheltered university student.
★★★★ Radio Times ★★★★ The Sun
Based on true events, Michael Herbig's thrilling Cold War drama recreates the incredible story of how two East German families planned to flee to the West in a homemade hot-air balloon.
★★★★★ RTÉ ★★★★ The Irish Times
Dublin writer/director John Butler (Handsome Devil) delivers this uplifting comedy about a heartbroken weatherman who strikes up an unlikely friendship with a middle-aged Latino migrant.
★★★★★ Irish Independent ★★★★ The Guardian
An Oscar nominated drama loosely based on the formative years of the world-renowned painter Gerhard Richter - from Nazism through to the Cold War - from German director Florian Henckel von Donnersmarck (The Lives of Others).
★★★★ The Guardian ★★★★ The Times
Bill Nighy is a Scrabble genius in this offbeat comedy-drama. Called to identify his long missing son, he and his other son head off on a road trip to the morgue - stirring up old grievances and some deadly wordplay.
★★★★★ London Evening Standard ★★★★ The Irish Times
Antonio Banderas and Penélope Cruz reunite with award-winning Spanish director Pedro Almodóvar (Julieta) in his most personal film to date, a semi-autobiographical tale of artistic crisis.
★★★★★ The Telegraph ★★★★★ Time Out
Writer/director Joanna Hogg re-imagines some of her own real-life experiences coming of age in 1980s London, exploring art, memory and love. Featuring a trio of incredible performances by Honor Swinton Byrne, Tom Burke and Tilda Swinton.
★★★★★ The Irish Times ★★★★ The Guardian
From Oscar-winning Hungarian director László Nemes (Son of Saul), Sunset is a mysterious, dreamlike period drama of secrets, threats and deceit in 1913 Budapest.
An Olympic swimmer must make amends for a homophobic outburst by coaching an gay water polo team in this feel-good French comedy about acceptance, humanity and understanding.
★★★★ Associated Press
This moving WWI film tells the incredible true story of how British, French and German soldiers laid down their weapons in December 1914 and put aside their differences to celebrate Christmas together. Starring Diane Krüger and Daniel Brühl.
___________________________________